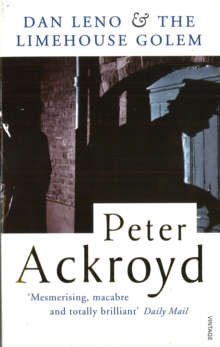 Dan Leno and the Limehouse Golem
Paperback
Description
Dan Leno, the great music hall comedian, was known in his lifetime as 'the funniest man on earth'.
So how could he have been involved in one of the most curious episodes in London's history when, in a short period during the autumn of 1880, a series of murders was attributed to the mysterious 'Limehouse Golem'?
In Peter Ackroyd's novel the world of late-Victorian music hall and pantomime becomes implicated in a number of sinister scenes and episodes, and the connection between the light and dark sides of nineteenth-century London begins to attract such contemporary figures as George Gissing and Karl Marx.
But there are also less well-known characters who play a significant role in the narrative.
What, for example, is the secret of Elizabeth Cree, about to hang for the murder of her husband?
Information
Format: Paperback
Pages: 288 pages
Publisher: Vintage Publishing
Publication Date: 05/06/1995
Category: Historical fiction
ISBN: 9780749396596
Free Home Delivery
on all orders
Pick up orders
from local bookshops
Reviews
Showing 1 - 4 of 4 reviews.
Review by m.a.harding
16/06/2015
I wish all Ackroyd's books were like this. A masterwork in how to write a thriller, a twist, a horror story, a historical novel, a social critique, a sociological study, a study of madness. Gore, wit, beauty.
Review by MelmoththeLost
16/06/2015
"Here we are again".OK so "Dan Leno etc" is the second work by Ackroyd I've read this year but this phrase is pertinent to this novel as anyone else who reads it will discover. And a fun bit of camp, gothic and gaslight hokum it is too, with which to while away a few hours.Set amongst the music halls or low variety theatres of the East End of London between the mid-1860s and 1880, Ackroyd not only invents a splendid fictitious series of murders which echo a series of shockers of the early 19th century but also introduces legendary comedian Dan Leno as major player and rounds up Karl Marx and Oscar Wilde as walk on parts (and Charles Babbage and his "Analytical Engine" as defunct and very stationary bit players respectively) to boot.Although relatively short at around 280pp, the novel weaves together a variety of voices - the reminiscences of the former variety girl turned respectable middle class wife; her husband, a former journalist and would-be dramatist who has come into money; the former university student who has married an alcoholic whore in an attempt to "redeem" her; the gay detective and his engineer boyfriend; and of course the voice of Ackroyd himself providing a documentary voice and commentary upon his fictitious non-fictitous fictitious 'orrible murders - all ably supported by a cast of thousands including assorted persons of the stage, East End whores, down and outs, cab drivers, a pornographic photographer with a taste for being spanked, surly waiters and audiences satisfied or otherwise.Hokum from beginning to end but a novel to lose oneself in on a winter's evening.
Review by shirley8
16/06/2015
Excellent story,really loved this one! I enjoyed reading this book from the the very first page! It tells the story of Elizabeth Cree or Lambeth Marsh Lizzie as she was known previously, a murder mystery set in pea soup foggy Victorian London in the 1880s.The story is told in parts by Lizzie herself or her husband John Cree.Elizabeth comes from a poor background in South East London,she lives with her mother ( who behaves like some one not quite right in the head) in a hovel where they sew sailing cloths for fishermen. The mother is very ill and slowly getting worse,Lizzie gets her a doctor but nothing can be done for her so Lizzie just walks off and leaves her to die in the hovel on her own. While her mother is slowly dying she goes off to the theatre to see Dan Leno on stage where she is offered a job working in the theatre, later Lizzie returns to her mother and finding her now dead she arranges for her burial in a pauper's grave and then goes off to work in the theatre with Dan Leno. Lizzie is a cold hearted *** (obviously inherited from her mother) the story goes on to tell you about the things that Lizzie gets up to (nasty,dark things)which leads to her husband's and her own eventual demise.George Gissing and Karl Marx also appear in the story as they were frequent visitors to The British Museum at the same time as John Cree.I was also a frequent visitor when young (what does that mean?)I think you will enjoy reading this book.
Review by isabelx
16/06/2015
I took this book with me to London to read there while staying with my brother for the weekend, since Peter Ackroyd's books are evocative of the history, mystery and atmosphere of the capital.<i>I know how absurdly gullible newspaper reporters can be; no doubt they now believed in the Limehouse Golem with the same fervour as everybody else, and willingly accepted that some supernatural creature was preying upon the living. Mythology of a kind has returned to London - if indeed it ever really left it. Interrogate an inhabitant of London very carefully, and you will find the remnants of some frightened medieval churl.</i> A sinister and atmospheric tale of musical halls and murder in the foggy London night. Elizabeth Cree is on trial for poisoning her husband. The respectable housewife married to a well-off journalist and playwright started life in squalor as sail mender Lambeth Marsh Lizzie, before becoming a music hall artist working with Dan Leno under the names 'Little Victor's Daughter' and 'The Older Brother'.Dan Leno, George Gissing and even Karl Marx are suspects in the dreadful murders happening in Limehouse, just eight years before Jack the Ripper's reign in Whitechapel.<i>Londoners love a good killing, on stage or off, and two of the wittier gentlemen were comparing the Limehouse Golem with Bluebeard himself. I was longing to approach them and introduce myself. 'I am the Golem. Here is my hand. You may shake it.'</i>