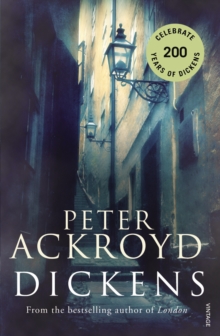 Dickens (Abridged)
Paperback
Description
A breathtaking feat of scholarship' The Times. 'I can do no more than praise, recommend, insist that you buy and read this book.
It supersedes all other Dickens biographies' Anthony Burgess, Independent.
In Peter Ackroyd's abridged edition of his classic biography of Charles Dickens, the acclaimed biographer takes us to the heart of one of the world's greatest writers.
From Dickens's birth in Portsmouth to his death at the age of just fifty-eight, Ackroyd explores the life of this renowned author and the hundreds of characters who were born with Dickens but didn't die with him, living on for ever in the pages of his books, on the radio and the television and film screens.
Information
Format: Paperback
Pages: 624 pages
Publisher: Vintage Publishing
Publication Date: 07/03/2002
ISBN: 9780099437093
Free Home Delivery
on all orders
Pick up orders
from local bookshops
Reviews
Showing 1 - 2 of 2 reviews.
Review by broughtonhouse
16/06/2015
I read this in the abridged for television BBC version; at nearly 600 pages of closely printed text it's still a real meat and potatoes book which explores in exhaustive detail not only Dickens the man but the Victorian society in which he lived. He emerges as a complex and not entirely likeable character who was quick to anger and slow to forgive but one whose novels have stood the test of time because they still have something to say about the human condition.
Review by Panfried
16/06/2015
I have always been fascinated by Dickens and his extraordinary world. Is his world the same as the Victorian world? I have discovered that my grandfather was born only 7 years after Dickens's death. The generation before that would have been around as his novels were being published for the first time, and would have been aware of the hysteria that surrounded his readings, possibly have attended the readings even.So I just feel it's all so recent somehow. One thing puzzles me - Peter Ackroyd often refers to non-famous people who met Dickens and quotes them - sometimes saying "this is the authentic voice of Dickens". These quotes are never properly attributed/cited. maybe they don't have to be as these people are long dead. But these were the most interesting part of the book in a way. Especially the woman who met him at a party and was intimidated by his oddness. That chilled me a little.The whole Ellen Ternan thing is very mysterious. I am still not clear if he left Catherine because of Ellen, or if he and Catherine had become incompatible. Apparently he famously burned a lot of correspondence at one stage. I don't think Peter Ackroyd mentions this. But there is so much evidence about him anyway. An unbelievable amount in fact.I loved this book and felt it was a very close second to being introduced to the great man in real life. Peter Ackroyd has done a great job.I still think Dickens was great, and essentially hugely considerate of those less fortunate. A radical to the end, despite his great wealth.