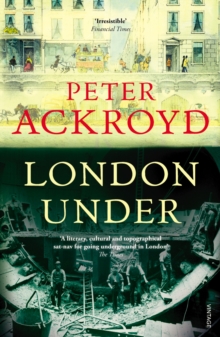 Description
London Under is an atmospheric, imaginative introduction to everything that goes on under London, from original springs and streams and Roman amphitheatres to Victorian sewers, gang hideouts and modern Underground stations.
This book tunnels down through the geological layers, meeting the creatures, both real and fictional, that dwell in the darkness - rats and eels, monsters and ghosts.
From the Anglo-Saxon graves under St Paul's, to the hydraulic device in Kensal Green cemetery which lowered bodies into the catacombs below, to the fossils uncovered when the Victoria Line was built and the gold bars within the Bank of England's vaults, London Under takes you into a hidden world, beneath our feet.
Information
Format: Paperback
Pages: 208 pages
Publisher: Vintage Publishing
Publication Date: 05/04/2012
Category: British & Irish history
ISBN: 9780099287377
Free Home Delivery
on all orders
Pick up orders
from local bookshops
Reviews
Showing 1 - 2 of 2 reviews.
Review by CliffordDorset
16/06/2015
I freely admit to being a fan of Ackroyd. And 'London Under' does not disappoint, even though is rather lacks the more leisurely pace of his many other works. This is entirely forgiveable, given the welter of complex information he presents on all aspects of the fully three-dimensional world that lies beneath the present superficial city. He muses on mankind's attraction to the literal underworld, and details the full scope of its significance for the population it supports in so many ways. The complex, busy city is underpinned by a spiritual world, partly based on the primal mystery of the several streams, now forced into covered darkness until they reach the Thames. This is a short book, and I sensed that its summary style was an indication of its role as a source book, invaluable for anyone aspiring to approach the incomparable knowledge and fascination of Ackroyd himself. An excellent book, even for one simply open to a brief revelation of the complexity of modern London.
Review by edwinbcn
10/11/2015
Peter Ackroyd is the undisputed chronicler of the history of London in his London: The Biography. This splendid volume of the zenith of London now has a slim companion volume, which focusses on the dark recesses below the pavement on the city. London under describes the history and variety of sub-terrean London.London under is a tantalizing in that it is both profoundly interesting but seemingly too ephemeral. No less than 13 short chapters produce less than 180 pages, each describing a different system of canals, pipes, tubes, tunnels hidden in the dark under the city. Besides descriptions of the respective systems, several chapters are devoted to describing people whose profession led to to live underground, as diggers or dwellers, historical or fictional, as in the last chapter some science fiction of H.G Wells in The Sleeper Awakes.London under is a very light and entertaining read, packed with facts, spanning almost all of London's history, bringing many gems of information and anecdotes about the London underworld to light.A delighting read.