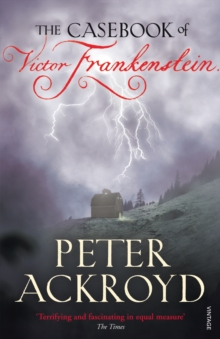 The Casebook of Victor Frankenstein
Paperback
Description
Victor Frankenstein begins his anatomy experiments in a barn in the secluded village of Headington, near Oxford.
The coroner's office provides the corpses he needs - but they have often died by violent means and are damaged and putrifying.
Victor moves his coils and jars and electrical fluids to a deserted pottery manufactury in Limehouse. And, from Limehouse, makes contact with the Doomesday Men - the resurrectionists.
Victor pays better than any hospital for the bodies of the very recently dead.
Even so, perfect specimens are hard to come by...until that Thames-side dawn when Victor, waiting, wrapped in his greatcoat, on his wooden jetty, hears the splashing of oars and sees in the half-light that slung into the stern of the approaching boat is the corpse of a handsome young man, one hand trailing in the water...
Information
Format: Paperback
Pages: 416 pages
Publisher: Vintage Publishing
Publication Date: 02/04/2009
ISBN: 9780099524137
Free Home Delivery
on all orders
Pick up orders
from local bookshops
Reviews
Showing 1 - 5 of 5 reviews.
Review by ElectricRay
16/06/2015
The Casebook of Victor Frankenstein is a super novel and one which gets better and better as it goes on. Peter Ackroyd is well known as a contemporary authority on London, and few writers today or at any time previously have so single-mindedly memorialised this wonderful city: Ackroyd has written not just London's widely acclaimed Biography, a companion piece about the Thames: Sacred River that flows through it, and biographies of its more famous sons (William Blake and Geoffrey Chaucer) and some historical fiction largely set in the city.In this context it comes as no surprise that Peter Ackroyd's reworking of Mary Shelley's Frankenstein is also set largely in the city, despite the original's setting in and around Geneva. On a broad scale Ackroyd's historical themes are unified: the galvanic force of electricity invigorates and brings life; in the same way the river flows through and animates the great metropolis. Life having been given, in each case does as it will, as dirty and degenerate as it is upstanding and honorable, and it is surely no coincidence that Ackroyd's creature makes his home in the wild reaches of the Thames estuary, and draws strength and wickedness in equal measure from its frequent immersion in the river, both at Limehouse and up river at Marlow.Ackroyd's historical rendering of early nineteenth century is (as far as I can tell!) flawless and as usual is exquisitely, intricately observed, and his adoption of the register of a novelist of the period is equally well rendered.The other interesting aspect of this novel is the depiction of the romantic poets and their entourage: "Bysshe" Shelley features from the outset as a struggling and somewhat neurotic gadfly; we meet Lord Byron somewhat later (a pompous, overbearing, spoilt fool) together with Mary Shelley herself (depicted far more sympathetically as the real artist amongst a bunch of dilettantes) and Byron's long-suffering physician/drug supplier, John Polidori. The interactions of these historical figures, with their own (fictional) creation Victor Frankenstein in their midst - together with, unannounced, *his* fictional creation (yet another sweet irony!) - drives the plot for the last half, across the continent to Villa Diodati for the famous night of Gothic ghost stories and then inevitably, like a moth to a light, back to the sacred Thames for the final denouement.It's a slow burner, but the more I reflected on a neat little tweak at the death, the more my admiration grew for Peter Ackroyd's achievement here. And the book's title is a neat little in-joke in itself.A modern - post-modern, even - Prometheus indeed.
Review by Suralon
16/06/2015
Atmospheric, historically correct, well written are a few of the accolades that this book and it's author deserve." The Casebook of Victor Frankenstein " by Peter Ackroyd is very good if not excellent book! The author is an accomplished writer and scholar of whom to this time I have not had the pleasure encountering before. The author skillfully combines and interweaves the lives of the characters of Mary Shelly's novel "Frankenstein" with those of party that stayed at a villa at Geneva where "Frankenstein' was first apparently conceived. The characters also interacted with other historic personages and institutions as they existed in England at that time.Overall a very good book indeed!
Review by iansales
16/06/2015
Victor Frankenstein, a young man from Switzerland, joins Oxford University, where he meets Percy Bysshe Shelley. The two become friends, although their interests only just coincide – Frankenstein wants to understand how life is created, and focuses his investigations on reanimating dead bodies using "the electrical fluid", whereas Shelley's investigations are more metaphysical. Even after Shelley is expelled, the two remain close – Frankenstein even moves to London to be near him. In order to further experiment, Frankenstein contacts some "resurrection men" and has them deliver cadavers to his laboratory in Limehouse. Most of his experiments are failures, but when he is handed the body of Jack Keat, a few short hours after he committed suicide (he was dying of consumption), Frankenstein successfully brings him back to life… And you just know the story going to end up at the Villa Diodati. Ackroyd takes a few liberties with Shelley's life, and Byron comes across as a dickhead, but the whole adds up to an entertaining take on the Frankenstein story and the Romantic poets. The period detail is impressively handled, Frankenstein is a sympathetic narrator, and there are a number of neat touches to the scientific thought of the day which I found amusing. A good book.
Review by CliffordDorset
16/06/2015
Ackroyd is a great writer, arguably England's finest, and this book is one of his most charming, weaving together his wealth of knowledge about London with plausible fabrications concerning the poet Shelley and his wife Mary, who invented the Frankenstein myth and mystery. His tale flows enticingly from page to mind, and is spellbinding. Even his concept of the science of the time is interesting; if only the laws of physics were so obliging!
Review by borhap
16/06/2015
Icame across this one while writing my MA thesis on "Frankenstein", so this one was a must-have for me.Quite huge disappointment though... The premise is interesting: a retelling of Frankenstein, yay! <br/>But while the idea is good, Ackroyd wastes it IMO. Maybe I'm not getting its point, but to me it seems just a mingling of facts and fictions out of the Frankenstein universe and its genesis. <br/>