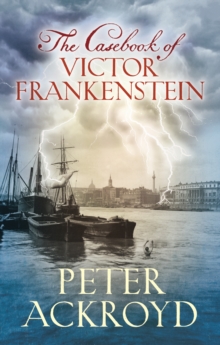 The Casebook of Victor Frankenstein
Hardback
Description
"It was at Oxford that I first met Bysshe. We arrived at our college on the same day; confusing to a mere foreigner, it is called University College.
I had seen him from my window and had been struck by his auburn locks." The long-haired poet - 'Mad Shelley' - and the serious-minded student from Switzerland spark each other's animated interest in the new philosophy of science which is over-turning long-cherished beliefs.
Perhaps there is no God. In which case, where is the divine spark, the soul? Can it be found in the human brain? the heart? the eyes? Victor Frankenstein begins his anatomy experiments in a barn in the secluded village of Headington, near Oxford.
The coroner's office in Clarendon Street provides corpses - but they have often died of violence and drowning: they are damaged and putrifying.
Victor moves his coils and jars and electrical fluids to a deserted pottery manufactury in Limehouse. And, from Limehouse, makes contact with the Doomesday Men - the resurrectionists.
He pays better than any hospital for the bodies of the very recently dead.
Even so, perfect specimens are hard to come by ...until that Thames-side dawn when Victor, waiting, wrapped in his greatcoat, on his wooden jetty, hears the splashing of oars and sees in the half-light that slung into the stern of the approaching boat is the corpse of a handsome young man, one hand trailing in the water. ..
Information
Format: Hardback
Pages: 304 pages
Publisher: Vintage Publishing
Publication Date: 04/09/2008
ISBN: 9780701182953
Free Home Delivery
on all orders
Pick up orders
from local bookshops
Reviews
Showing 1 - 3 of 3 reviews.
Review by RobSurl
16/06/2015
An enjoyable, atmospheric and believable take on the Frankenstein story, in which Shelley, Byron and Mary Shelley appear as characters, alongside the eponymous Victor Frankenstein and his monstrous creation. Much of the action is set in Peter Ackroyd's beloved London. It held my interest throughout, and is well paced with a very satisfying ending.
Review by Cariola
16/06/2015
After finishing this book, I'm still not sure what to make of it: it's either ingenious or a total mess. Ackroyd blends fact and fiction to come up with something new, something not quite historical fiction but not quite a fictional biography either. The premise is that, long before animating a creature, Victor Frankenstein attends Oxford University, where he meets the poet Percy Bysshe Shelley. Except for a short visit home to Geneva to see his sister (real sister, not, as in the novel, cousin-sister) Elizabeth, who is dying of consumption, and to attend her funeral and that of his father, the story is set in England. Frankenstein's experimentation and the final creation of life all take place in a deserted potter's barn near a Thames estuary. Shelley pops in and out, and the biographical facts surrounding his life blur into fictional events from Mary Shelley's novel. For example, the discovery of Harriet Shelley's body in the Serpentine mingles with young William's murder in <i>Frankenstein</i>. Here, her death is ruled not a suicide but murder: she has been strangled (like William) with a necklace (the supposed motive for William's murder) that is subsequently found in her brother's pocket (as the locket with Caroline's portrait is found in Justine's pocket, both she and Harriet's brother being framed). What to make of this? Revising and recording in his journal the "facts" of the fictional Victor's life is a clever strategy, but I found myself a bit irritated by the distortion of Percy Shelley's biography; a good historical fiction writer would not have gone this far. As a result, I found myself puzzling over diversions from Mary Shelley's novel as if it, too, was biography. Readers who are as familiar with <i>Frankenstein</i> as I am may find themselves lost in a strange book, somewhere between fact and fiction (but always, predominantly fiction). But perhaps this is what Ackroyd intended: to shake up our notions of reality and of genre.If nothing else, it's quite a ride.
Review by devenish
16/06/2015
Peter Ackroyd has written the Frankenstein story from a new angle,but until the final lines it is not clear how different this angle is. Certainly I should have realized how this would end,but I have to admit it came as a complete surprise. The 'Monster' is much more believable than in the original story and just as horrific.As always,Ackroyd is brilliant and his book a true tour-de-force.