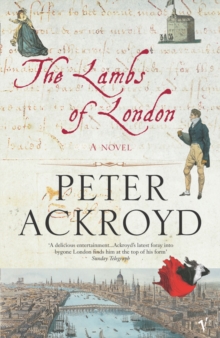 The Lambs Of London
Paperback
Description
Mary Lamb is confined by the restrictions of domesticity: her father is losing his mind, her mother watchful and hostile.
The great solace of her life is her brother Charles, an aspiring writer.
It is no surprise when Mary falls for the bookseller's son, antiquarian William Ireland, from whom Charles has purchased a book.
But this is no ordinary book - it once belonged to William Shakespeare himself. And William Ireland with his green eyes and his red hair, is no ordinary young man...
The Lambs of London brilliantly creates an urban world of scholars and entrepreneurs, a world in which a clever son will stop at nothing to impress his showman father, and no one knows quite what to believe.
Ingenious and vividly alive, The Lambs of London is a poignant, gripping novel of betrayal and deceit.
Information
Format: Paperback
Pages: 224 pages
Publisher: Vintage Publishing
Publication Date: 04/08/2005
Category: Historical fiction
ISBN: 9780099472094
Free Home Delivery
on all orders
Pick up orders
from local bookshops
Reviews
Showing 1 - 5 of 5 reviews.
Review by john257hopper
16/06/2015
A wonderfully colourful story based around a famous forgery of alleged works by Shakespeare. Ackroyd describes London scenes and characters as only he can and this is an absolute pleasure to read.
Review by Danielle23
16/06/2015
A great book, very well written with a very gripping story. It had me engaged from the very beginning and held throughout.
Review by Chatterbox
16/06/2015
This has been sitting on my shelves since I picked it up at Waterstone's on Piccadilly 2 or 3 years ago in a 3 for 2 special sale. I generally love Ackroyd's work, although I'm more familiar with his NF than his novels. This one appealed because of Charles Lamb, whose wonderful essays I love, and whose life -- caring for his sister, toiling away 6 days a week as a clerk and fitting his literary passions away into the corner of his life -- has always struck me as very poignant.This book is set over the course of about 18 months leading up to the most climactic event in the lives of the Lamb siblings, and their personal tragedy (no spoilers here) overlapped in time and space with that of another Londoner of about Charles's age, William Henry Ireland. Lamb was almost certainly aware that Ireland and his father, owners of a bookstore in the City, were bringing out newly discovered works by Shakespeare, including a complete play that was staged by Sheridan, but history never reveals that they actually met. Ackroyd started this by saying to himself -- "what if?" What if the siblings who would go on to write the Complete Tales from Shakespeare (which introduced Shakespeare to me when I was about 8 about 150 years later) had encountered the man who tried to bring new works by the bard to light? How might it have changed their lives?And that's the story at the heart of this slim novel, with Charles, on the one hand, being first a figure of envy for Ireland, and letter being envious of him. Mary, meanwhile, is entranced by Ireland and perhaps also enchanted by the glimpses of another, literary world that Charles invites her into too rarely. In contrast, Ireland seems eager to share "his" Shakespeare discoveries; Mary is enthralled. "To dwell in another time -- if only for a moment -- offered her proof that she need not be confined or restricted" by her domestic duties caring for a senile father under her mother's thumb. Literary characters who stride across Ackroyd's stage include Thomas de Quincey (author of Confessions of an English Opium-Eater and lots of great essays). Ireland, opines de Quincey, is preying upon Mary. He "forges feelings as he forges words." (In 'real life', Lamb's salons would extend to include Shelley, Leigh Hunt and William Hazlitt, and his work was admired by Coleridge.)Characters here aren't always as fully developed as they might be, but this is still a fascinating glimpse of what Lamb and his circle might have been like, and it's a 4-star book, IMO. It has also prodded me to go in search of a biography of him. While this novel isn't one I'd necessarily urge on all and sundry, I would say: you MUST, at some point in your lives, read Lamb's wonderful Essays of Elia. My personal fave is "Old China".
Review by startingover
16/06/2015
Although the main characters in this novel are people who really existed (Charles Lamb and his sister Mary), Ackroyd makes it clear that this is not intended to be a biography (anyone interested in knowing more about the Lambs should read Kathy Watson's non-fiction book about Mary Lamb, 'The Devil Kissed Her').Charles and Mary live with their senile father and repressive mother. Charles, who can at least escape to go to work and of course is free to go where he wants (as a 'respectable' woman could not do), has a drink problem. He is devoted to Mary who, despite her lack of formal education, is an intelligent and sensitive companion with a a great love for literature, and Shakespeare in particular.In Ackroyd's novel, Mary Lamb's narrow life is enriched when she befriends bookseller's son William Ireland. Like Thomas Chatterton (also the subject of a novel by Peter Ackroyd), Ireland is a forger. Ireland claims to have found papers that once belonged to Shakespeare, including the text of an hitherto unknown play, 'Vortigern'. The play is Ireland's undoing - skilled forger though he is, he over-reaches himself.Mary Lamb murdered her mother in 1796, but that incident is dealt with only towards the end of the novel, and the ends are tied up in a rather perfunctory manner. Although the story is a good one, I felt that Ackroyd never really gets inside Mary's mind. If I hadn't know the biographical facts of Mary's life, the murder might have seemed little more than a rather lurid plot device. Nevertheless, this is an enjoyable historical novel, although perhaps lacking the depth of other Ackroyd novels such as 'Chatterton' and 'Hawksmoor'. [October 2006]
Review by gypsysmom
16/06/2015
I had heard of Mary and Charles Lamb. I even read some of their Shakespearian Tales when I was in high school. However, I don't think I knew they were brother and sister and I certainly didn't know most of the other information Peter Ackroyd has delivered in this book. Of course, it is fiction so he may have added to the facts in order to make a better story. In fact he acknowledges this at the beginning of the book:This is not a biography but a work of fiction. I have invented characters, and changed the life of the Lamb family for the sake of the larger narrative.Charles Lamb was a clerk for the East India Company. He lived with his father and mother and his sister Mary. As was the custom at the time Charles was educated but Mary was kept at home and learned the arts of keeping a house. However, Mary was intelligent and used Charles books to study. In fact she outdid him in terms of learning. Charles wrote occasional pieces for publication in periodicals. One morning while on his way to work he stopped at a small bookshop owned by Samuel Ireland. He talked to Samuel's son, William, and William showed him a book with an inscription by Shakespeare. Charles, Mary and William became well acquainted as they all loved Shakespeare. When William began to produce other documents signed by Shakespeare or in his handwriting he became the talk of London. William said he had met a woman in widow's weeds who wanted help with documents that her late husband had collected. It was from this stash that William found the documents by Shakespeare. William even found a complete new manuscript for a play that was unknown. As his fame grew his relationship with Mary Lamb also matured. On William's part they were just friends but Mary seemed to be quite infatuated with him. In fact, she verged on the edge of hysteria.Eventually the relationships between Mary and William and between William and Charles began to disintegrate. William was questioned about the authenticity of the documents he had produced and the reader becomes aware that all is not right. Mary gets more insane until she stabs her mother. Mary is committed to an asylum where she gets treatment and is able to live outside of the asylum. Charles establishes a home and Charles and Mary live together. It is at this time that they produce their Shakespearian tales. William discloses his fakery but goes on to write a number of books.I thought Ackroyd's descriptions of London were wonderful. I could almost smell the odours on the Southbank when William took Mary there. On the other hand I didn't like his characterization of Mary as a woman driven to insanity by unrequited love. It seems to me that too many times intelligent women who cannot use their intellect are accused of hysteria and that is what I feel Ackroyd has done with Mary. Other than that lapse I enjoyed this book and I would recommend it to anyone who enjoys historical fiction and Shakespeare.