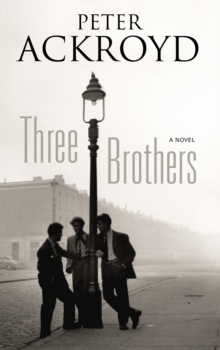 Description
Three Brothers follows the fortunes of Harry, Daniel and Sam Hanway, born on a post-war council estate in Camden Town.
Marked out from the start by curious coincidence, each boy is forced to make his own way in the world - a world of dodgy deals and big business, of criminal gangs and crooked landlords, of newspaper magnates, back-biters and petty thieves. London is the backdrop and the connecting fabric of these three lives, reinforcing Ackroyd's grand theme that place and history create, surround and engulf us.
From bustling, cut-throat Fleet Street to hallowed London publishing houses, from the wealth and corruption of Chelsea to the smoky shadows of Limehouse and Hackney, this is an exploration of the city, peering down its streets, riding on its underground, and drinking in its pubs and clubs.
Everything is possible - not only in the new freedom of the 1960s but also in London's timeless past.
Information
Format: Hardback
Pages: 256 pages
Publisher: Vintage Publishing
Publication Date: 01/10/2013
ISBN: 9780701186937
Other Formats
Paperback from £6.65
EPUB from £2.99
Free Home Delivery
on all orders
Pick up orders
from local bookshops
Reviews
Showing 1 - 2 of 2 reviews.
Review by edwinbcn
16/06/2015
Three brothers is a novel with a deceptively simple story. While perhaps a tat bland, that simple story could be taken to be the whole story, at a superficial level. Without digging at deeper levels, the story of Three brothers makes for a complete novel, about growing up in London during the second half of the Twentieth Century.The novel tells the story of three brothers who are, as unlikely as it may seem, each born on the 6th of May, in three successuve years, Harry Hanway, May 6, 1947, the middle brother Daniel, May 6, 1948, and the youngest brother, Sam, on May 6, 1949. These dates can be construed by the fact that Harry remembered the approximate day their mother disappeared when he was 10 years old, which must have been in October 1957 (page 18). While few other dates are given, temporal references are provided at which age each of the three boys reach landmark events in their lives. Their father, Philippe Hanway is a failed writer turned nightwatch, and their family is broken up, as it has been deserted by their mother. The disappearance of the mother, Sally, remains a mystery throughout the book, although the youngest brother finds her, and occasionally sees her.The oldest brother becomes a successful journalist, and basically succeeds where his father failed. Daniel, is intellectually talented and wins a scholarship to university in Cambridge, incidentally, the same college of which Peter Ackroyd is an alumnus. The youngest brother, Sam, is adrifter. He apparently has visions or transcendental experiences. Sam is gay, and has an on-off relation with Sparkle or Sparkler, a curious character who is portrayed as a rent boy and a thief.The book is structured in alternating chapters in sequence of the age of the three brothers, Harry, Daniel and Sam, telling the story of the brothers growing up and their lives in London. The novel provides an incredible amount of detail in the names of people, businesses and localities, suggesting that the novel can be read at a deeper level.One of the most eye-catching details is that Harry is engaged as a journalist by The Morning Chronicle. A quick check shows that no such newspaper existed in London during the 1960s, but The Morning Chronicle was a newspaper that was published in London between 1769 and 1865. It is known to have been the first steady employer of Charles Dickens in the capacity as a journalist. Before that, Harry took up a position as a messenger boy at The Camden Bugle. This periodical still exists: it is published by the Camden Mental Health Consortium, a charity aiming to improve the quality of life of mental health patients and former patients in the London Borough of Camden.The clue leading to The Morning Chronicle is sufficiently obscure to suggest that 1950s - 1970s London is, to contemporary readers already as obscure as the Victorian London of Charles Dickens. The novel Three brothers is apparently decked out in a myriad of fine details that wait to be explored. It is likely that these details provide several layers of meaning to the novel, as characters can be identified with historical characters and people, and locations can provide depth and dimensions to characters that cannot be gleaned from superficial reading.However, the question will be, who is sufficiently interested to do so? Certainly not the casual reader. Probably, Three brothers will be a tough task for several PhD candidates to unravel. The Internet seems un indispensable tool for that purpose, but it is likely that very obscure or distorted and fictionalized facts cannot be found with such a crude tool. Professional readers will have to devote themselves to delving into the life of the author, who is known to have a life-long obsession with London, Ackroyd being the author of London: The Biography. It could be argued that in Three brothers the city of London assumes the role of the central character.Fortunately, reading the novel at the apparently superficial level is also a rewarding reading experience.
Review by louis69
27/08/2015
Three Brothers gives a picture of London which while it may be true to the period of the novel, is also very Dickensian. This feature derives from both the geographical description and the characterisation.The Church of Our Lady of Sorrows crops up often and I felt that I ought to check whether it really existed. It doesn't although the Catholic church in Camden Town is called Our Lady of Hal reflecting a link to a town in Belgium which is a centre for Marian devotion. Crystal Street no longer exists if it ever did but Britannia Street certainly still does not far from Kings' Cross Station.Characters such as Sparkler could be lifted straight from a Dickens novel.I found that the tale of the Boy who Turned into a Tree told by Asher to Sam is a central myth in the story. It reflects a mother's love for her child and this is in turn reflected in the fact that it is Sam who finds his mother again and develops an adult relationship with her. Perhaps there is some significance in that which links to the future of each of the three brothers.Sam, the youngest of the three brothers and the one who more like his father, seems to be the key brother in the story although there is more obviously written about the lives of the other two Daniel and Harry. However each of them has a mystical/supernatural quality and either hears things which others don't hear, or sees things which others don't see. Sam is the best example of this as he sees the statue of the Virgin Mary in the Church of Our Lady of Sorrows weeping.I enjoyed this novel - the first of Ackroyd's fiction works I have read.