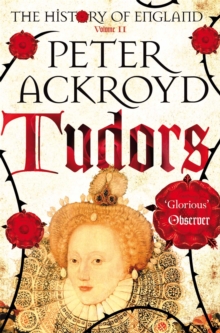 Tudors : A History of England Volume II Volume II
Paperback
Description
Rich in detail and atmosphere and told in vivid prose, Tudors recounts the transformation of England from a settled Catholic country to a Protestant superpower. It is the story of Henry VIII's cataclysmic break with Rome, and his relentless pursuit of both the perfect wife and the perfect heir; of how the brief reign of the teenage king, Edward VI, gave way to the violent reimposition of Catholicism and the stench of bonfires under 'Bloody Mary'. It tells, too, of the long reign of Elizabeth I, which, though marked by civil strife, plots against the queen and even an invasion force, finally brought stability.Above all, however, it is the story of the English Reformation and the making of the Anglican Church.
At the beginning of the sixteenth century, England was still largely feudal and looked to Rome for direction; at its end, it was a country where good governance was the duty of the state, not the church, and where men and women began to look to themselves for answers rather than to those who ruled them.
Information
Format: Paperback
Pages: 528 pages
Publisher: Pan Macmillan
Publication Date: 01/07/2013
Category: British & Irish history
ISBN: 9781447236818
Free Home Delivery
on all orders
Pick up orders
from local bookshops
Reviews
Showing 1 - 2 of 2 reviews.
Review by Opinionated
16/06/2015
When I was in junior school in England, way back when, I used to have a little book called "Life and Times of The Kings and Queens of England". I suspect Peter Ackroyd did too and has taken it as his model. Greatly expanded of course, but this is not a history of England, its the life and times of its monarchs. In the first volume, Foundation, Mr Ackroyd did at least make some attempt to talk about social and cultural changes but I now suspect this is because a relative lack of sources about some of the early monarchs forced him to do so. With the advent of Henry VIII he abandons this. Henry's rule is about his matrimonial affairs, schism with Rome, putative military adventures, treachery, treason and plot, and some personal habits. Edward = ill health, education, protestantism and some power politics between his various Protectors. Mary = Bloody Mary and little else. Elizabeth is about lack of matrimony, the Spanish, and by extension Mary Stuart and treachery, treason and plot againAnd that's really it. The one social issue that Mr Ackroyd does tackle is the changes in religious practice from Catholicism to what is now Anglicanism, touching on Puritanism and various other strands along the way. This he does well, and at length, and in the context of the reign. In his view this is the most important historical strand of Tudor times. Maybe so, but surely not the only one. England's emergence as a trading power gets a passing mention. Its emergence as a seapower scarcely more; In fact there are more mentions of bear baiting.There are vague rumours of a colony in Roanoke but we learn nothing of its progress. The slave trade is initiated - but one line is all we get. Well known Elizabethans like Mr Shakespeare and Mr Raleigh go unremarked. So why the 4 stars. Because it is very well written and very entertaining. For those who enjoy the history of the period its good to be reminded of its principal players, to be reminded that Scotland and France were once in a perpetual alliance that threatened the stability of a Protestant England. Good to, to see that people haven't changed so much; to the horror of commissioners, the average man in the street of Reformation England would rather spend his time at the alehouse than the church. Its quite refreshing somehowSo an entertaining read. But don't be expecting a history of England; its the "Great Men (and women)" theory of history.
Review by CliffordDorset
16/06/2015
For one who was badly taught history at school Ackroyd's approach and style provides an understanding of this important way of viewing the world in its many and varied aspects. It is clear that a discussion of the Tudor dynasty requires a dedicated approach to the sources that are available, and in reading this book I always felt confident that Ackroyd had taken his work seriously, without unduly imposing his personal views on the material. The path he takes here is that which clearly shows the development of the way Christianity developed during the period, and how the social and political upheavals of the time were occasioned by this. As always, Ackroyd here brings his clear and logical style to his guidance of the reader. A fascinating book.