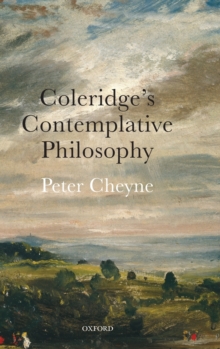 Coleridge's Contemplative Philosophy
Hardback
Description
'PHILOSOPHY, or the doctrine and discipline of ideas' as S.
T. Coleridge understood it, is the theme of this book. It considers the most vital and mature vein of Coleridge's thought to be the contemplation of ideas objectively, as existing powers.
A theory of ideas emerges in critical engagement with thinkers including Plato, Plotinus, Boehme, Kant, and Schelling.
A commitment to the transcendence of reason, central to what he calls the spiritual platonic oldEngland, distinguishes him from his German contemporaries.
The book also engages with Coleridge's poetry, especially in a culminating chapter dedicated to the Limbo sequence.
This book pursues a theory of contemplation that draws from Coleridge's theories of imagination and the Ideas of Reason in his published texts and extensively from his thoughts as they developed throughout unpublished works, fragments, letters, and notebooks.
He posited a hierarchy of cognition from basic sense intuition to the apprehension of scientific, ethical, and theological ideas.
The structure of the book follows this thesis, beginning with sense data, moving upwards into aestheticexperience, imagination, and reason, with final chapters on formal logic and poetry that constellate the contemplation of ideas.
Coleridge's Contemplative Philosophy is not just a work of history of philosophy, it addresses a figure whose thinking is of continuing interest, arguing that contemplation of ideas and values has consequences for everyday morality and aesthetics, as well as metaphysics.
The volume will be of interest to philosophers, intellectual historians, scholars of religion, and of literature.