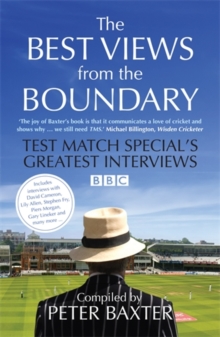 The Best Views from the Boundary : Test Match Special's Greatest Interviews
Paperback
Description
'Views From the Boundary' - the Saturday lunchtime interview - has always been a highlight of the BBC's Test Match Special, a programme with a special place in the heart of every English cricket fan.
The well-known interviewees are from all walks of life and united only by one thing - a love of the game.
Over a glass of champagne and in the convivial atmosphere of the TMS commentary box at the height of a Test, Brian Johnston, Jonathan Agnew, Henry Blofeld and others gently prod and probe their illustrious guests - with frequently memorable results.
With interviews personally selected by Peter Baxter, the programme's producer for many years and sometime commentator, and reflecting listeners' favourites, The Best Views From the Boundary presents an unmissable selection of these cricketing conversations.
Relive the heady days of summer and the thwack of leather on willow as you indulge yourself in a true cricketing treat.
Featuring interviews with John Cleese, HRH The Duke of Edinburgh, Gary Lineker, David Essex, John Major, Peter O'Toole, Brian Johnston, John Paul Getty Jr., Dennis Skinner, Stephen Fry, Nigel Havers, Elton John, Boris Johnson, Piers Morgan, Daniel Radcliffe, David Cameron, Lily Allen, Bill Wyman and more.
Free Home Delivery
on all orders
Pick up orders
from local bookshops