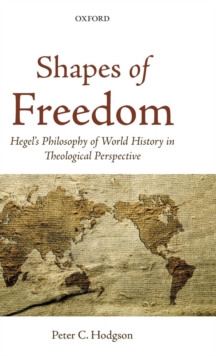 Shapes of Freedom : Hegel's Philosophy of World History in Theological Perspective
Hardback
Description
Peter C. Hodgson explores Hegel's bold vision of history as the progress of the consciousness of freedom.
Following an introductory chapter on the textual sources, the key categories, and the modes of writing history that Hegel distinguishes, Hodgson presents a new interpretation of Hegel's conception of freedom.
Freedom is not simply a human production, but takes shape through the interweaving of the divine idea and human passions, and such freedom defines thepurpose of historical events in the midst of apparent chaos.
Freedom is also a process that unfolds through stages of historical/cultural development and is oriented to an end that occurs within history (the 'kingdom of freedom').
The purpose and the process of history are tragic, however, because historyis also a 'slaughterhouse' that shatters even the finest human creations and requires a constant rebuilding.
Hegel's God is not a supreme being or 'large entity' but the 'true infinite' that encompasses the finite.
History manifests the rule of God ('providence'), and it functions as the justification of God ('theodicy').
But the God who rules in and is justified by history is a crucified God who takes the suffering, anguish, and evil of the world into and upon godself, accomplishingreconciliation in the midst of ongoing estrangement and inescapable death.
Shapes of Freedom addresses these themes in the context of present-day questions about what they mean and whether they still have validity.
Information
Format: Hardback
Pages: 208 pages
Publisher: Oxford University Press
Publication Date: 31/05/2012
Category: Philosophy
ISBN: 9780199654956
Free Home Delivery
on all orders
Pick up orders
from local bookshops