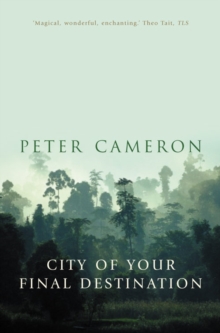 The City of Your Final Destination
Paperback
Description
This startling, beautiful novel set in South America explores the mysterious concepts of love and home.'If The City of your Final Destination were eligible for the Man Booker Prize I would be pressing for it to be on the shortlist.' Salley Vickers, The TimesOmar has won an award to write the authorised biography of a celebrated yet obscure writer, Jules Gund.
But first he must gain the approval of Gund's literary executors: his widow, his mistress and his brother.
Not allowing himself time for reflection, Omar acts against instinct and flies to the family's dilapidated mansion in Uruguay.
If he cannot win their approval, he will lose his award, his job and, perhaps, his redoubtable girlfriend.
Once there, he disturbs the uneasy intimacy of the world Gund has left behind and changes it for ever.'A tender story - told with huge doses of wit and humour - about both destinations and destiny.' Lucia Graves, Daily Telegraph'This is one to relish for its subtle dialogue, evocation of a languid, dreamy place and the sly, submerged comedy of random events.' Tamsin Dean, Sunday Telegraph'A joy to read.' Ross Gilfillan, Daily Mail
Information
Format: Paperback
Pages: 320 pages
Publisher: HarperCollins Publishers
Publication Date: 05/05/2003
ISBN: 9781857029734
Free Home Delivery
on all orders
Pick up orders
from local bookshops
Reviews
Showing 1 - 1 of 1 reviews.
Review by olduvai
02/03/2016
The City of Your Final Destination is set in Uruguay, although it won't satisfy the armchair traveler as it is mostly takes place within a big house in Uruguay<br/><br/>"Here I am in Uruguay, but I could be anywhere. I could be in Kansas. Although the air smelled different: there was some sort of warm, dusty scent that seemed vaguely exotic."<br/><br/>That's Omar thinking out loud. He's a scholar trying to get authorisation to write a biography about the writer Jules Gund. Omar's kind of a strange one, or at least his girlfriend Deirdre makes him out to be a strange one. He doesn't seem to really push himself to do things, instead she does the pushing – she tells him to go to Uruguay to get the authorisation. And he does.<br/><br/>The story didn't quite jell with me for a while, until Omar meets Caroline, Jules' wife (who lives in the same estate as Jules' mistress and brother – yeah it is complicated):<br/><br/>"She turned away from the window. 'Of who I would seem to be if a biography were written of Jules. If, let us say, you were to write a biography of Jules. Who would I be? A mad Frenchwoman, who had been married to Jules Gund, painting in an attic.'"<br/><br/>And then I realised what this book was about. This biography of a man who is no longer alive would change them all, perhaps especially Omar:<br/><br/>"Suddenly it seemed exhausting, impossible: How do you write a biography? he wondered, when there is so much, when there is everything, an infinity, to know. It seemed impossible. It was like compiling a telephone book from scratch."