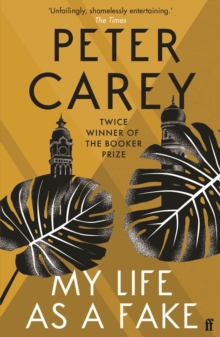 My Life as a Fake
Paperback
Description
Melbourne, the late 1940s. A young conservative Australian poet named Christopher Chubb decides to teach his country a lesson about pretension and authenticity.
Choosing as his target the most avant-garde of the literary magazines, he submits for publication the entire oeuvre of one Bob McCorkle, a working-class poet of raw power and sexual frankness, conveniently dead at twenty-four and entirely the product of Chubb's imagination.
Not only does the magazine fall for the hoax, but the local authorities also sue its editor for publishing obscenity.
At the trial someone uncannily resembling the faked photograph of the invented McCorkle, leaps to his feet.
At this moment a horrified Chubb is confronted by the malevolent being he has himself manufactured...
Information
Format: Paperback
Pages: 288 pages
Publisher: Faber & Faber
Publication Date: 03/06/2004
ISBN: 9780571216208
Free Home Delivery
on all orders
Pick up orders
from local bookshops
Reviews
Showing 1 - 3 of 3 reviews.
Review by soylentgreen23
16/06/2015
After a couple of weeks of just reading classical fiction, Carey's novel was a breath of fresh air. The story is a bizarre and relentless one, of a poet who creates a hoax to humiliate a former friend, only to find that his creation has become a reality. The publisher of a literary magazine in the UK sets out to find the truth, and to gain for herself the poems of the genius-hoax; and she too has her own history to deal with.If I had any complaints with Carey's work here, it is that there is simply too much going on. It's like a season of 24, with betrayals, glimpses of the truth, action sequences; and all of this skips about merrily and dramatically, until by the end of the book I can hardly remember how it all began.
Review by red.yardbird
16/06/2015
Not really sure how I feel about this book. I read it quickly. Over about 2 days. Not quite sure about the ending. I guess I was expecting something that could possibly explain the mystery of McCorkle's life. I wasn't expecting such a clear indication that McCorkle and Chubb were separate.Was there a moral to the book? What comes of lies? How you can be consumed by the tale? Perhaps? It was nonetheless a good yarn, and I enjoyed it. I can't help but feel I'm missing something though.
Review by polarbear123
16/06/2015
I think I would have rated this book higher except for the fact that the ending left me feeling a bit empty. Is this a reworking of Frankenstein. I hadn't thought about it until I read the Shelley quote at the start of the book. A nice idea and quite often people do get consumed with a monster of their own creation and gradually grow to resent it. The character of the editor presumable was supposed to be the main character however we don't really find out much about her. As you can tell I am in a few minds about this book which kind of reflects the feeling of the book itself. Yes the plot is intriguing and it will keep you glued and there are some lovely side stories and details typical of Carey. Some of the characters feel like they are not fully realised. Compare it to say Parrot and Olivier or Jack Maggs and the story is not as fully realised in my opinion. A very humble opinion in face of such a great author that is!