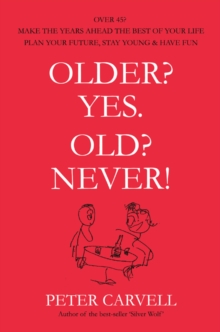 Older? Yes. Old? Never!
Paperback / softback
Description
How much you enjoy your last decades is a matter of attitude, writes Peter Carvell, bestseller author of Silver Wolf which became the first book to forecast this social revolution.
Get it right and your best years are ahead. Older? Yes. Old? Never! will change millions of lives. Twenty million people are over 50, and a quarter of a million more join every year.
They will all want this book. Older? Yes. Old? Never! gives voice to the 50plus generation. It is a user-friendly book, showing how a change of attitude could change the reader's life - for the better. 2011 will see enormous media interest in the end of the fixed retirement age.
This social revolution means that millions over 50 will have to change their attitudes about working and retiring later.
Older? Yes. Old? Never! is for this 50plus generation, and aims to help them get their heads round the changes in their lives, and shows them what a fantastic future they can now plan.
Above all, Older? Yes. Old? Never! shows how, with some serious planning, the 50plus generation can have the best years of their lives, playing out their Third Act, when they can fulfill all those dreams that they never had time for in the previous 30 years. Retirement is dead. Most of us will be working into our seventies. But it could bring us a better life than our parents had.
Older? Yes. Old? Never! is a practical guide to enjoying those years. Chapters include: The 10 Great Myths about Getting Older; The 10 things you must do in your fifties; Make your Grand Plan; How to take control of your money (no one else will); To divorce or not to divorce; Keep looking young - and lie about your age; Why you need more sex, but who with?
Enjoy your money; you earned it; Never totally retire - just reduce your workload gradually.
Older? Yes. Old? Never! is written by Peter Carvell, author of best seller Silver Wolf, the book that changed the landscape for the 50 Plus generation.
Information
Format: Paperback / softback
Pages: 244 pages
Publisher: Delancey Press Ltd
Publication Date: 01/10/2011
Category: Fitness & diet
ISBN: 9781907205156
Free Home Delivery
on all orders
Pick up orders
from local bookshops