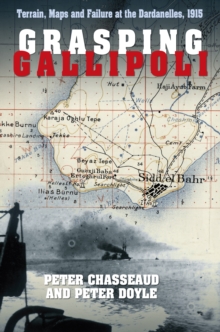 Grasping Gallipoli : Terrain, Maps and Failure at the Dardanelles, 1915
Paperback / softback
Description
The failure of the Gallipoli campaign was instantly blamed on a great untruth - that the War Office was unprepared for Dardanelles operations and gave Sir Ian Hamilton little in the way of maps and terrain intelligence.
This myth is repeated by current historians. The Dardanelles Commission became a battleground of accusation and counter-accusation.
This book, incorporating much previously unpublished material, demonstrates that geographical intelligence preparations had indeedbeen made by the War Office and the Admiralty for decades.
They had collected a huge amount of terrain information, maps and charts covering the topography and defences, and knew a great deal about Greek plans to capture the Gallipoli Peninsula.
At least one plan was Anglo-Greek!Much of this material, which is here identified and evaluated, was handed over to Hamilton's Staff.
Additional material was obtained in theatre before the landings, T.
E. Lawrence playing a part. This book, which is the first to examine the intelligenceand mapping side of the Dardanelles campaign, looks closely at its terrain, and describes the production and development of new operations maps, and clarifies whether the intelligence was properly processed and efficiently used.
It also examines the use of aerial photos taken by the Royal Naval Air Service during the campaign, and charting, hydrographic and other intelligence work by the Royal Navy.
Information
Format: Paperback / softback
Pages: 364 pages, 35 Illustrations, black and white
Publisher: The History Press Ltd
Publication Date: 02/03/2015
Category: European history
ISBN: 9780750962261