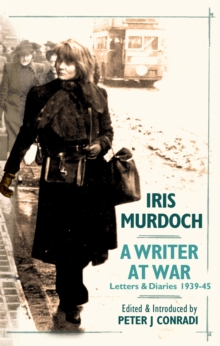 A Writer at War : Letters and Diaries of Iris Murdoch 1939-45
Hardback
Description
These never-before published diaries and letters will be a MUST for every Iris Murdoch fan...These collected writings, never published before, comprise a diary which Iris Murdoch kept in her last summer at Oxford, immediately before the outbreak of the Second World War, and her wartime correspondence with two men: the poet Frank Thomson, murdered in Bulgaria in 1944, and a teacher for the British Council, David Hicks.
They reveal the young writer at her sprightly, original best - as gripped by her own affairs, and those of her friends and peers, as by the great affairs of the world; exuberant when in love, and yet remarkably philosophical even when love goes painfully wrong.
Iris Murdoch: A Writer at War is a treasury of one of the great women writers and thinkers of the 20th century - a fascinating private memoir which sheds new light on a brilliant mind in development, but also a remarkable historical document of life behind the scenes during the Second World War.
Information
Format: Hardback
Pages: 256 pages
Publisher: Short Books Ltd
Publication Date: 21/01/2010
Category: Diaries, letters & journals
ISBN: 9781906021221
Free Home Delivery
on all orders
Pick up orders
from local bookshops
Reviews
Showing 1 - 3 of 3 reviews.
Review by rmckeown
16/06/2015
After reading Conradi's exquisite and thoroughly documented biography of Iris Murdoch, I thought I would have little to learn about one of my all time favorite novelists. But these insights -- directly from the pen of Murdoch herself -- reveal much more about her. Even with Conradi's superb effort, these journals and letters reveal inside information about Iris' life, loves, relationships, and early life. I hope this is the first in a long series from Conradi. This volume from England -- not yet published in the US -- will appeal to devotees of Iris and should be must reading for all serious students of her work.If you have never read Iris Murdoch, you are missing out on one of the great novelists of the 20th century. She wrote 26 novels as well as a handful of plays, poetry, criticism, and philosophy. Murdoch is truly one of the most outstanding women of letters in the history of British literature. She ranks with Pope and only a smidgen below Dr. Samuel Johnson in my estimation. Start with her Booker Prize winner <i>The Sea, the Sea</i>, or <i>The Bell</i>, or, as I did <i>The Book and the Brotherhood</i>. I am about half way through her novels, and this has inspired me to read <i>A Severed Head</i> next. 5 stars--Jim, 5/16/10
Review by yooperprof
16/06/2015
Oh my, it's hard to review this miscellany! I am a very big Iris Murdoch fan - read all of her novel, and most of her philosophy - so I find the subject matter intrinsically interesting. That said, I found this book to be poorly edited, misleadingly titled, and often quite disappointing. And there's no index! But I still "liked it." First the diary: it's really just a two-week long journal from late August 1939, about Murdoch's experience with a semi-professional theatrical troupe when she was just twenty. Not terribly interesting, either. Then there are separate "runs" of letters from Murdoch to two of her lovers and intimate friends during the Second World War, Frank Thompson and David Hicks. Instead of "integrating" the sequences, they are presented in different "chapters" of the book - even though Murdoch's relationship with them overlapped - as would happen often throughout her long and varied romantic life. It's a peculiar editorial choice, and I think it doesn't really serve the reader - or Murdoch - well. Actually, many letters of Thompson _to_ Murdoch are reproduced in the book as well - perhaps a few more than letters of Murdoch _to_ Thompson. These are somewhat interesting in themselves - as Thompson was a soldier and a poet and a Communist and is regarded as a great hero in Bulgaria (where he assisted the anti-Nazi Resistance movement) - but they don't really contribute much to an understanding of Iris Murdoch. The most interesting part of this book was the concluding "chapter," the section of letters to David Hicks, a fellow writer and intellectual with whom she battled verbally, but who became engaged to her for a short while in late 1945/early 1946. She and Hicks saw each other only briefly in the period in question, so the affair was indeed carried out mostly in letters - and letter overwhelmingly from Murdoch. The authorial voice of Murdoch begins to emerge in these contradictory, frustrating, discursive, emotional and revealing missives.
Review by LyzzyBee
16/06/2015
17 Mar 2010A collection of three different works: IM's diary of a roaming theatre production just before the outbreak of WWII, her letters to Frank Thompson and those to David Hicks, during the war. The diary is very sweet - it's earnest and young but retains our interest and has a value that not all juvenalia have. For an IM fan, it's lovely to see her relatively unencumbered, enjoying singing and acting and stretching herself, and also being very funny and a good or not so good friend.Both sets of letters can make uncomfortable reading at times. While she doesn't, in my opinion, look foolish, IM does lay her emotions bare in what were, presumably, private letters not intended for publication. Especially in those to David Hicks, she is reduced to begging him to write and sending honest thoughts which she then slightly regrets. But who among us, especially when young, hasn't said things to a lover one would rather not have said, or embarassed ourselves a little. The last letter in the Hicks sequence is quite painfully controlled and mature, and made me feel sad on reading it, even though I knew the story of their relationship from other reading. But still, in both sets of letters you get a developing writer, thrilled to come across Simone de Beauvoir and to meet Satre, trying to learn to ski, failing at being a good administrator. And, while I vigorously subscribed to the Death of the Author theory at University, to avoid having to do much secondary reading, I did enjoy seeing the roots of her civil servants and complex love affairs with which we become so familiar when reading her novels.A minor point, but one which did affect my reading of the book: the footnotes. Some of the actual notes seemed a little strained. Who needs the word "somnambulist" explaning? And there were some [sic]s in the text which seemed a little inconsistent, pointing out some errors and not others. Worse, was the actual proof-reading of the footnotes. On several occasions, footnotes which should have run onto the next page broke off, with the rest of the note nowhere to be found. Particularly irritatingly, this happens to the note at the end of the Frank letters - the letter itself breaks off, as we know, and then the footnote reads: "Final page missing: how Frank signed off his last letter we will probably never"! And notes appear on the page next to the one on which the footnoted text appears, which I've never seen before. In fact, on the final page of the book, instructions for contacting the publisher end: "Please quote ref. 'Short Books", i.e. missing the final quotation mark! I know it's niggly, but this did spoil my reading of the text somewhat, as it disturbed the flow.Apart from this, an interesting read and a valid addition to my Murdoch collection.