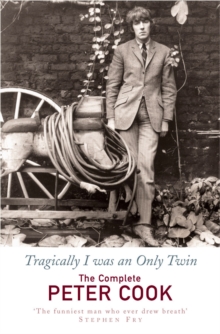 Tragically I Was an Only Twin : The Comedy of Peter Cook
Paperback
Description
For his many friends and fans, Peter Cook was quite simply the funniest man they'd ever encountered. And nearly eight years since his death, his status as one of Britain's greatest comedians shows no sign of shrinking.
Despite his reputation for idleness, Peter Cook was a great comedy writer, who created countless outrageous sketches and articles and was famed for his prolific role in the satire boom of the 1960s.
The very best, the most famous and some of the most unusual of his comic masterpieces are collected here.
Some of these pieces have never been published before, others are out of print, a few only survive in print, and many have only ever been seen or heard - never read.
This collection ranges from Cook's first writing, at school and university, via Beyond The Fringe, with Dudley Moore, Alan Bennett and Jonathan Miller, his dualogues with Moore as Pete & Dud and Derek & Clive, and their brilliant TV series, Not Only But Also, to transcripts of his late, great TV appearances, and a selection of his journalism for the Daily Mail, the Evening Standard and Private Eye.
Information
Format: Paperback
Pages: 464 pages
Publisher: Cornerstone
Publication Date: 03/07/2003
Category: Television
ISBN: 9780099443254
Free Home Delivery
on all orders
Pick up orders
from local bookshops
Reviews
Showing 1 - 3 of 3 reviews.
Review by Yorkshiresoul
16/06/2015
Peter Cook, comedy genius, writer, performer, star of stage, screen and LP, savior of Private Eye, partner of Dudley Moore, this is a collection of (not quite) all the collected writings on one of England's great comedians.Whether you're a fan of Pete n' Dud, Derek and Clive, Sven the insomniac Norwegian fisherman or Sir Arthur Streeb-Greebling, there are some treasures in here for you.Cook's humour was quintessentially English, often based on class differences and the perceptions of difference, he used humour to have a go at the rich, stupid, working class, middle class, the religious, the pious, but often done in an abstract and surreal style that would inspire those other giants of British comedy the Monty Python team.My personal favourite would be that failure of a man, Sir Arthur Streeb-Greebling, the man who spent half a lifetime trying to teach ravens to fly underwater, undertook a financially disastrous musical crickets tour and once had a job as Betty Grable's leg tugger (she had very short legs you see, they required daily tugging to keep them at a reasonable length for dancing).Cook's star has waned somewhat in comparison to Python and other comic luminaries like the Two Ronnies and Morecombe and Wise, but if one of the numerous endless repeats channels on satellite tv should see fit to broadcast some Pete ' Dud, or maybe air the Twelve Days of Christmas, they are well worth looking out for, and if you can't see them, pick up the book.
Review by dir21
16/06/2015
Peter Cook was quite possibly the funniest man who has ever lived. His work on radio, television and `Private Eye' was without exception hysterically amusing.For reasons that I still do not understand this book is completely unfunny. Go and get a CD or DVD instead.
Review by DavidWineberg
16/06/2015
The best description of Peter Cook came from Stephen Fry, who said he was the funniest man who ever drew breath. This volume collects about as much of the short form written record as exists. Unfortunately, a great deal of Cook's oeuvre on the BBC was systematically and deliberately destroyed – to make space, of all things. But Cook was so active in so many media, it could fill a book. And here it is.Having it all in front of you gives you the opportunity to attempt to make sense of it, to figure out how Peter Cook was funny. A great deal of the answer is that it was in the delivery. The dry, phony, ignorant Briton, be he upper class or lower, was a natural for Peter Cook to imitate and caricature. His vehicle was repetition, constantly repeating what his friend or interviewer or random encounter would say. Cook would echo it. Repeatedly. Even "Good evening" became the basis of many a hilarious routine. Say it enough, and it becomes absurd. The works show that he could be funny differently, as needed. He didn't tell jokes. There is no way to stereotype him. He was clever, biting, sarcastic and bombastic, as needed. He had the potential to own every medium.Only Twin also reveals Peter Cook in media we don't readily remember him in. Sports columns, editorials, and radio phone-in shows for example. They showed his talents but also his huge weakness. Cook never really worked at anything. His success began right in school, and he rode his wave without ever honing his gift. The result is dilettantism – trying this or that, expecting to be effortlessly brilliant. He wasn't. Had he stuck with anything, we might have seen refinement, growth, and that brilliance adapted and expanded. But his editorials are superficial, his sports columns bland, and the call-in by "Sven" quite uninspired. His films cause consternation.Reading the short form scripts, particularly the Dudley Moore two-handers, you can hear how Cook made dull bores excruciatingly funny. The ignorant assumptions of his characters, the tiny bit of knowledge extended far beyond its worth, the pompous self-serving assessments – are all there, but they're there in Cook's delivery. Very few actors could pick up these scripts and do as well with them as Peter Cook did.So the magic remains his, but the collection of these works is enormously valuable, not to mention enjoyable.