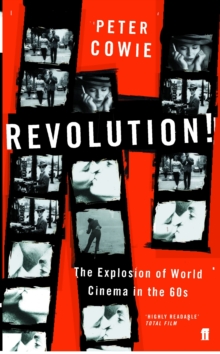 Revolution! : The Explosion of World Cinema in the 60s
Paperback / softback
Description
All of the drama, excitement and flavour of 60s cinema, a revolution that led to the Cannes Film Festival riots of 1968. The period 1958-69 saw a brilliant explosion of film-making talent not just in Europe but throughout the world.
From France and Italy to India and Japan, Poland and Czechoslovakia to North and South America, young film-makers sprang from nowhere to challenge the drear conformity of the 1950s and flout the abiding taboos, both sexual and political, of their age.
The vanguard of this revolution included Godard and Truffaut, Pasolini and Bertolucci, Oshima and Rocha, Polanski and Cassavetes.
Critic Peter Cowie was in the thick of this cultural tumult, not least when some of these firebrand talents shut down the Cannes Festival in the heady May of 1968.
Revolution! recaptures afresh the cultural spirit of the 1960s - its struggles, innovations, and achievements - through a wide range of new interviews with those maverick film-making talents of the time.