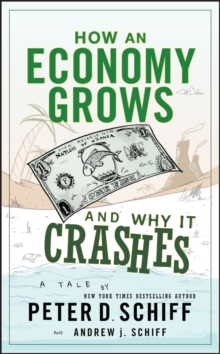 How an Economy Grows and Why It Crashes : Two Tales of the Economy
Hardback
Description
How an Economy Grows and Why it Crashes uses illustration, humor, and accessible storytelling to explain complex topics of economic growth and monetary systems.
In it, economic expert and bestselling author of Crash Proof, Peter Schiff teams up with his brother Andrew to apply their signature "take no prisoners" logic to expose the glaring fallacies that have become so ingrained in our country?s economic conversation. Inspired by How an Economy Grows and Why It Doesn?t?a previously published book by the Schiffs? father Irwin, a widely published economist and activist?How an Economy Grows and Why It Crashes incorporates the spirit of the original while tackling the latest economic issues.With wit and humor, the Schiffs explain the roots of economic growth, the uses of capital, the destructive nature of consumer credit, the source of inflation, the importance of trade, savings, and risk, and many other topical principles of economics. The tales told here may appear simple of the surface, but they will leave you with a powerful understanding of How an Economy Grows and Why it Crashes.
Information
Format: Hardback
Pages: 256 pages, ill
Publisher: John Wiley and Sons Ltd
Publication Date: 03/05/2010
Category: True stories
ISBN: 9780470526705
Free Home Delivery
on all orders
Pick up orders
from local bookshops
Reviews
Showing 1 - 2 of 2 reviews.
Review by buchowl
16/06/2015
Peter Schiff is at it again. Yet this time instead of explaining how to invest in an uncertain economy he does something much more basic; he explains what an economy is and how it functions. And not in the snoozefest manner of economic professors (who, as a group, seem to have the same attribute as my college econ profs of being able to make the subject more confusing rather than less). Instead he uses the manner of a favorite first grade teacher of telling a story with line drawing and everything. Bear with me here. From anyone else this method might be insulting to one's intelligence but Schiff manages to pull it off without making his audience feel stupid. This book is not only imminently readable but also full of information; an alternate title could be "Everything You Thought You Knew About the Economy But Were Afraid to Ask". As Schiff tells the story he also puts it in context by sprinkling "Realty Check" boxes throughout and ends each chapter with a "Takeaway" summary to bring the points home. There is also a great deal of poking fun at pundits and politicians with thinly veiled name changes (naw, Peter, tell us how you really feel about TV personality Barry Codroe).This a book that every voting American should read (as a democracy requires an informed electorate) and also should be required reading for every elected official (why do I have a sneaking suspicion that Congress should have read this before passing the hastily passed financial reform bill). I have a child taking economics next year in high school - this will be summer reading for her so she has a solid grasp of the subject. Highly, highly recommended but only if you want to understand the US economy (or any economy for that matter) AND have a sense of humor.
Review by GShuk
16/06/2015
This audio does a great job of simplifying some complicated economic topics using a story format. Unfortunately, he interjects his view of free enterprise good government bad within the story, and makes it sound as if it is the only option. Wish I read this book in high school with a teacher pointing out where the author takes liberties.