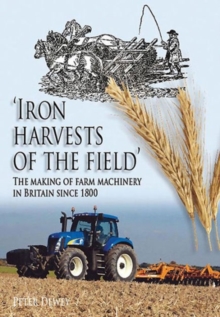 Iron Harvests of the Field : The Making of Farm Machinery in Britain Since 1800
Paperback / softback
Description
In many ways this book tells a familiar story in British industry: of innovation and enterprise in the early decades ...of worldwide dominance at a time when Britain was the workshop of the world ...of wars and economic downturns ...of foreign competition ...and of relative and absolute decline on the path of de-industrialisation in the latter part of the twentieth century.
For most of this period the farm machine industry grew and matured.
It is an inspiring story of technological achievement and of industrial success, as farmers and engineers brought iron and steel to fields which had previously been the domain of locally made timber implements and power provided by horses.Agricultural technology moved on, inexorably, from broad-cast seed and the sound of the threshing flail, via the portable steam engine and the threshing machine, right through to the modern world of giant tractors - each with the power of 200 horses - combine harvesters and impressively efficient farming methods.This book traces the broad sweep of the whole industry over 200 years, looking at many individual companies and products to explain how and why the farm machinery industry developed in the way it did. Important individual machines are described and illustrated in detail.
The British farm machine industry is unlikely ever again to be large by world standards, nor to dominate the world stage as once it did.
Yet the author traces a rich vein of innovation, enterprise and technological inspiration, often taking place within the large number of relatively small-scale, craft-based workshops which were so prevalent in the early decades.
Rather than mere manufacturing, therefore, perhaps it is this tradition of technical innovation and invention which marked out the British farm machinery industry for historical greatness, and perhaps it is this tradition which will continue to mark it out in the future.
Free Home Delivery
on all orders
Pick up orders
from local bookshops