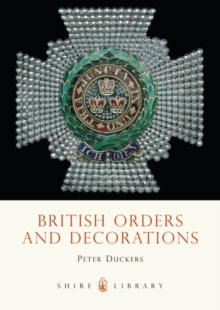 British Orders and Decorations
Paperback / softback
Description
This book introduces the insignia worn by members of British Orders of Knighthood and Chivalry.
These Orders have existed since the early Middle Ages and were initially intended to unite important noblemen in bonds of loyalty to their monarch or to act as impressive rewards for their services.
Over the course of time, appointments to Orders were made to distinguished persons for services rendered to the sovereign or to the state and they have survived into modern times as another means of rewarding people of all classes and occupations for their contribution at international, national or local levels.
Some, like the 'Great Orders' of the Garter and the Thistle or the Order of Merit, remain the province of a very select few who have rendered service of signal importance, usually over a long period; others, like the Order of the British Empire, are made much more widely available and reward excellence or dedicated work in all spheres of life.
There are those, like the Royal Family Orders or the Royal Victorian Order, which remain exclusively the prerogative of royalty or as rewards for special service to the royal family or sovereign. The insignia worn by the various ranks within the Orders are often of the highest quality and exquisite workmanship and, like campaign medals and decorations, have become a popular field for collecting and research.
Information
Format: Paperback / softback
Pages: 56 pages, colour and b&w illustrations
Publisher: Bloomsbury Publishing PLC
Publication Date: 01/03/2004
Category: Genealogy, heraldry, names & honours
ISBN: 9780747805809
Also in the Shire album series | View all