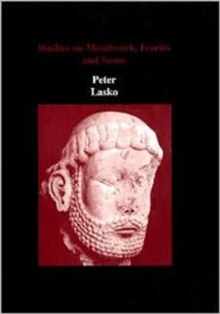 Studies on Metalwork, Ivories and Stone
Hardback
Description
Peter Lasko is the leading authority on the luxury arts of the Middle Ages.
His book, Ars Sacra, has become the standard reference work on the subject.
This collection of twenty-one papers by Professor Lasko contains two studies on sculpture, as well as a number of studies on the arts of the metalworker and ivory carver for which he is best known.
There is also an essay on the ethics of restoration, and three studies on the discipline of art history.
Contents include: The Comb of St. Cuthbert; A Romanesque Ivory Carving; Exhibition of Romanesque Art at Barcelona and Santiago de Compostela; Der Goldpokal der Konige von Frankreich und England; The Thorn Reliquary: the Art of the Parisian Goldsmiths of c. 1400; The Signet Ring of Richard I of England; An English Romanesque Portable Altar; The Pentecost Panel and Godefroid de Claire; The Rattlesden St.
John; The Escrain de Charlemagne; The Courtauld Institute of Art and Art History in Great Britain; An Unnoticed Leaf of a Late Antique Ivory Diptych and the Temple of Mercury in Rome; The Concept of Regionalism in French Romanesque; Two Ivory Kings in the British Museum and the Norman Conquest; Anglo-Saxon or Norman?
Observations on Some Ivories at the Hayward Gallery; The Tomb of St.
Bernward of Hildesheim; The Enger Cross; The Impact of German-speaking Refugees in Britain on the Fine Arts; Der Einfluss der deutschen Kunstgeschichte in England; The Principles of Restoration; Der Krodo-Altar und der Kaisersthul in Goslar; Additional Notes.
Information
Format: Hardback
Pages: 320 pages, 124 illus.
Publisher: Pindar Press
Publication Date: 31/12/1994
Category: Carvings: artworks
ISBN: 9780907132820