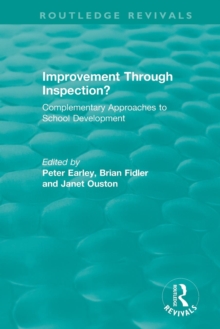 Improvement Through Inspection? : Complementary Approaches to School Development
Paperback / softback
Description
Originally published in 1996, the title of this book poses the question whether the motto of the Office for Standards in Education was an apt statement of its effects in practice.
Beginning with the state of knowledge about OFSTED's early impact, the Editors review the range of complementary approaches to school improvement - most of them driven by the schools themselves - that were in operation, alongside the OFSTED system of inspection at the time. The major part of the book is taken up with the main `quality initiatives' that were at work in primary and secondary schools - including Investors in People, Deming, TQM, partnerships, professional competence, strategic planning and effective governorship.
Each chapter examines critically - sometimes with the aid of case studies of good practice - the benefits such approaches might bring to schools in their attempts to raise standards.
The book is a companion to OFSTED Inspections: The Early Experience by the same Editors, published and reissued simultaneously.
Also in the Routledge Revivals series | View all