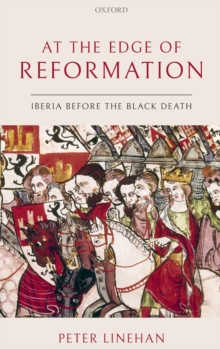 At the Edge of Reformation : Iberia before the Black Death
Hardback
Description
At the Edge of Reformation springs from Peter Linehan's continuing interest in the history of Spain and Portugal, on this occasion in the first half of the fourteenth century between the recovery of each kingdom from widespread anarchy and civil war and the onset of the Black Death.
Focussing on ecclesiastical aspects of the period in that region (Galicia in particular) and secular attitudes to the privatisation of the church, it raises inter aliosthe question why developments there did not lead to a permanent sundering of the relationship with Rome (or Avignon) two centuries ahead of that outcome elsewhere in the West. In addressing such issues, as well as of neglected archival material in Spanish and Portuguese archives, Linehan makes use of the also unpublished so-called 'secret' registers of the popes of the period. The issues this volume raises ought to be of interest not only to students of Spanish and Portuguese society but also to those interested in the developing relationship further afield of the components of the eternal quadrilateral (pope, king, episcopate, and secular nobility) in latemedieval Europe as well as of the activity in that period of the secular-minded sapientes.
In this context, attention is given to the hitherto neglected attempt of Afonso IV of Portugal to appropriate the privileges of the primatial church of his kingdom and to the glorification of his Castilian son-in-lawas God's vice-gerent in his.
Information
Format: Hardback
Pages: 272 pages
Publisher: Oxford University Press
Publication Date: 07/03/2019
Category: European history
ISBN: 9780198834199