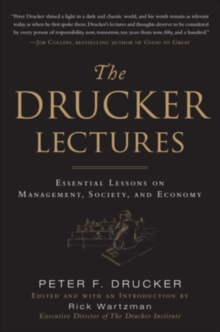 The Drucker Lectures: Essential Lessons on Management, Society and Economy
Hardback
Description
Praise for The Drucker Lectures"Peter Drucker shined a light in a dark and chaotic world, and his wordsremain as relevant today as when he first spoke them.
Drucker's lecturesand thoughts deserve to be considered by every person of responsibility,now, tomorrow, ten years from now, fifty, and a hundred."-Jim Collins, author of Good to Greatand How the Mighty Fall"Rick Wartzman has brought Peter Drucker alive again, and vividly so,in his own words.
These samples of his talks and lectures, because theywere spoken not written, will be new to almost all of us.
A great andunexpectedtreat."-Charles Handy, author ofMyself and Other More Important Matters"Peter Drucker's ideas continue to resonate powerfully today.
Hislectureson effectiveness, innovation, the social sector, education and so muchmore provide fresh insights that extend beyond his other writings andprovide lessons for us all.
This book is a gem."-Wendy Kopp, CEO and founder of Teach for America"Rick Wartzman has performed a great service in pulling together TheDrucker Lectures.
The collection is as far-ranging as Drucker's thinkingandwriting.
If you have sampled Drucker before, you will find things youhaven'tseen.
Peter's ideas live on. You will be energized by reading themanew."-Paul O'Neill, former U.S.
Secretary of the Treasury"Peter Drucker inspires awe.
From the 1940s until his death a few yearsago, he displayed a combination of insight, prescience, and productivitythat few will ever match.
This superbly edited collection captures boththerange of Drucker's thinking and the sweep of history that informed it.TheDrucker Lectures is a riveting read that reveals the depth and subtletyofone of America's most remarkable minds."-Daniel H.
Pink, author ofA Whole New Mind and Drive"Rick Wartzman really has brought Peter to life in The Drucker Lectures.Reading this book, I practically felt as though I were seated in theaudience,listening to my friend and hero, Peter Drucker-truly one of thegreat geniuses of management.
These lectures are as vital today as theywere when Peter delivered them.
They cover significant territory, fromtheimportance of faith and the individual to the rise of the globaleconomy.It's a classic collection that belongs on every manager's bookshelf."-Ken Blanchard, coauthor ofThe One Minute Manager and Leading at a Higher LevelPreviously unpublished talks from the Father of Modern ManagementThroughout his professional life, Peter F.
Drucker inspired millions of business leaders not only through his famous writings but also through his lectures and keynotes.
These speeches contained some of his most valuable insights, but had never been published in book form-until now. The Drucker Lectures features more than 30 talks from one of management's most important figures.
Drawn from the Drucker Archives at the Drucker Institute at Claremont Graduate University, the lectures showcase Drucker's wisdom, wit, profundity, and prescience on such topics as: Politics and economics of the environmentKnowledge workers and the Knowledge Society Computer and information literacyManaging nonprofit organizations GlobalizationDuring his life, Drucker well understood that over the last 150 years the world had become a society of large institutions-and that they would only become larger and more powerful.
He contended that unless these institutions were effectively managed and ethically led, the good health of society as a whole would be in peril.
His prediction is unfolding before our eyes. The Drucker Lectures is a timely, instructive book proving that responsible behavior and good business can, in fact, exist hand in hand.
Information
Format: Hardback
Pages: 336 pages
Publisher: McGraw-Hill Education - Europe
Publication Date: 01/07/2010
Category: Business & management
ISBN: 9780071700450
Free Home Delivery
on all orders
Pick up orders
from local bookshops
Also by Peter Ferdinand Drucker | View all