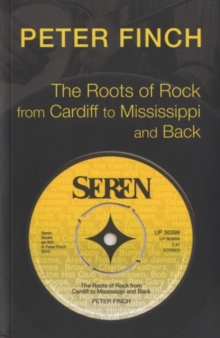 The Roots of Rock, from Cardiff to Mississippi and Back
Paperback / softback
Description
In The Roots of Rock from Cardiff to Mississippi and Back Peter Finch reflects on how popular music has shaped both his life and the culture in which he lives, from first hearing American music on the radio in his Cardiff home in the 1950s to the compendious and downloadable riches of digital files. Finch has always gone to gigs and now he travels to the bars of Ireland, the clubs of New York, the plains of Tennessee, the flatlands of Mississippi and the mountains of North Carolina to get a feel for the culture from which his favourite music originates. The resulting book mixes musical autobiography with an exploration of physical places in western Europe and the US. It is a demonstration of the power of music to create a world for the listener that is simultaneously of and beyond the place in which it is heard.

Finch marks his journey with reminiscences of music in Britain from skiffle and early Cliff Richard pop to Bill Cotton and his Band to Champion Jack Dupree playing the local British Legion. There are asides on forming your own (destined to fail) band, the rise of folk music, the arrival of the blues and the burgeoning Welsh language scene. In the US come visits to Dollywood, Graceland, Muscle Shoals, Grand Ole Opry and Stax, plus the Appalachian mountains and the crossroads on Highway 49 where Robert Johnson made his devilish pact.

The cast of musicians includes Muddy Waters, Taylor Swift, Bessie Smith, Tommy Steele, Aretha Franklin, Ray Charles, Johnny Cash, Chris Tweed and singing cowboys. They are joined by music historians like Cecil Sharp, Maud Kapeles and Harrison Mayes who helped formalise and save traditions, by jugbands, gospel choirs and Anne Nichols, the tragic Knoxville Girl.

Each chapter is accompanied by a multi-track play list to help the reader have the full flavour of what Finchs musical experiences and bring alive the many sharp witted stories and thoughtful cultural connections. The result is an entertaining, informative book from which the reader will learn much and hear more.
Information
Format: Paperback / softback
Pages: 280 pages
Publisher: Poetry Wales Press
Publication Date: 01/12/2015
Category: Rock & Pop music
ISBN: 9781781722664
Free Home Delivery
on all orders
Pick up orders
from local bookshops