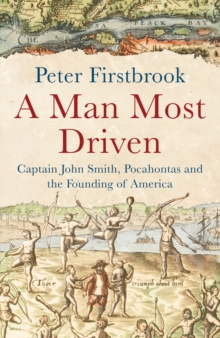 A Man Most Driven : Captain John Smith, Pocahontas and the Founding of America
Hardback
Description
He fought and beheaded three Turkish adversaries in duels.
He was sold into slavery, then murdered his master to escape.
He sailed under a pirate flag, was shipwrecked and marched to the gallows to be hanged, only to be reprieved at the eleventh hour. And all this happened before he was thirty years old.
This is Captain John Smith's life. Everyone knows the story of Pocahontas, and how in 1607 she saved John Smith. And were it not for Smith's leadership, the Jamestown colony would surely have failed.
Yet Smith was a far more ambitious explorer and soldier of fortune than these tales suggest - and a far more ambitious self-promoter, too.
Now, in this first new major biography of Smith in decades, award-winning BBC filmmaker and author Peter Firstbrook traces the adventurer's astonishing exploits across three continents, testing Smith's own writings against the historical and geographical reality on the ground.
With A Man Most Driven, Firstbrook delivers a riveting, enlightening dissection of this myth-making man, England's arrival on the world stage, and the creation of America.
Information
Format: Hardback
Pages: 432 pages, 57 black & white illustrations, 10 maps
Publisher: Oneworld Publications
Publication Date: 14/10/2014
ISBN: 9781851689507
Other Formats
Paperback from £8.35
EPUB from £19.19
Free Home Delivery
on all orders
Pick up orders
from local bookshops
Reviews
Showing 1 - 1 of 1 reviews.
Review by Stbalbach
16/06/2015
Prior to reading <i>A Man Most Driven</i> I was only vaguely aware of Captain John Smith. Having grown up in the Chesapeake Bay area I knew he was the first to explore the coast and rivers and that he played a part in the founding of Jamestown, where most famously the story of Pocahontas occurred. He is legendary in all senses of the word. Therein is the problem since most of his biography is based on his own memoirs published in the early 17th century, thus it's difficult to verify. There were no fact checking editors, books were self-published at the authors own expense. And the autobiography was a new form of writing without established conventions. Nevertheless many historians have looked at it quite closely and so Firstbrook is able to draw on a lot of scholarship. He makes frequent interludes to explain why an event may have or not happened. In the end his story is mostly believable in the broad sense with some details embellished. Smith's life was a great adventure. He started the son of an English farmer but was rebellious, physically powerful, intelligent and a great self-promoter. In the turmoil of the age he decided to lead a life of adventure. He fought in battles against the Turks in Hungary and Transylvania, led armies, fought in duels, killed many people, was enslaved in the Middle East, escaped through Russia. He was a founding member of the first successful English colony in the New World, fought pirates, was kidnapped, shipwrecked, fought Indians, explored and named vast parts of America. And he did it all in about 20 years. Without Smith, Jamestown would have probably failed like the other previous colonial attempts. Smith's rebellious spirit and background from a low-born family from which he rose on the merits of his actions, not a family crest or connections, is a mirror of American values. He might be seen as the first archetypal American character. <i>A Man Most Driven</i> is an easy way to learn about this interesting Elizabethan explorer and also a good introduction to the first crucial decade of Jamestown, the first permanent English settlement in America.
Also by Peter Firstbrook