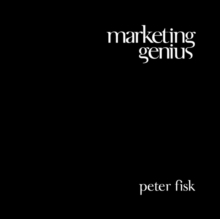 Marketing Genius
Hardback
Description
The little black book of marketing is here. Marketing guru Peter Fisk's inspirational manual of marketing shows you how to inject marketing genius into your business to stand out from the crowd and deliver exceptional results.
Marketing Genius is about achieving genius in your business and its markets, through your everyday decisions and actions.
It combines the deep intelligence and radical creativity required to make sense of, and stand out in today's markets.
It applies the genius of Einstein and Picasso to the challenges of marketing, brands and innovation, to deliver exceptional impact in the market and on the bottom line.
Marketers need new ways of thinking and more radical creativity.
Here you will learn from some of the world's most innovative brands and marketers - from Alessi to Zara, Jones Soda to Jet Blue, Google to Innocent.
Peter Fisk is a highly experienced marketer. He spent many years working for the likes of British Airways and American Express, Coca Cola and Microsoft.
He was the CEO of the world's largest professional marketing organisation, the Chartered Institute of Marketing, and lead the global marketing practice of PA Consulting Group. He writes and speaks regularly on all aspects of marketing.
He has authored over 50 papers, published around the world, and is co-author of the FT Handbook of Management. "Marketers who want to recharge their left and right brains can do no better than read Marketing Genius.
It's all there: concepts, tools, companies and stories of inspired marketers." -Professor Philip Kotler, Kellogg Graduate School of Management, and author of Marketing Management "A fantastic book, full of relevant learning.
The mass market is dead. The consumer is boss. Imagination, intuition and inspiration reign. Geniuses wanted." -Kevin Roberts, Worldwide CEO Saatchi & Saatchi, and author of Lovemarks "This is a clever book: it tells you all the things you need to think, know and do to make money from customers and then calls you a genius for reading it." -Hamish Pringle, Director General of Institute of Practitioners in Advertising, and author of Celebrity Sells "This is a truly prodigious book.
Peter Fisk is experienced, urbane and creative, all the attributes one would expect from a top marketer. The case histories in this book are inspirational and Peter's writing style is engaging and very much to the point.
This book deserves a special place in the substantial library of books on marketing." -Professor Malcolm McDonald, Cranfield School of Management, and author of Marketing Plans "Customers, brands and marketing should sit at the heart of every business's strategy and performance today.
Marketing Genius explains why this matters more than ever, and how to achieve it for business and personal success" -Professor John Quelch, Professor of Business Administration at Harvard Business School and author of New Global Brands "Marketing Genius offers marketers 99 inspiration for only 1 perspiration." -Hugh Burkitt, CEO, The Marketing Society
Information
Format: Hardback
Pages: 498 pages
Publisher: John Wiley and Sons Ltd
Publication Date: 24/02/2006
Category: Sales & marketing management
ISBN: 9781841126814
Free Home Delivery
on all orders
Pick up orders
from local bookshops