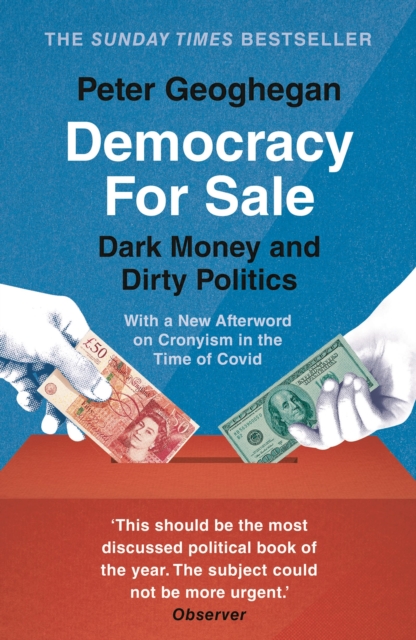 Democracy for Sale : Dark Money and Dirty Politics
Paperback / softback
Description
The Sunday Times bestseller. 'A compulsively readable, carefully researched account of how a malignant combination of rightwing ideology, secretive money (much of it from the US) and weaponisation of social media have shaped contemporary British (and to a limited extent, European) politics...
Remarkable' Observer, Book of the Week Democracy is in crisis, and unaccountable and untraceable flows of money are helping to destroy it.
This is the story of how money, vested interests and digital skulduggery are eroding trust in democracy.
Antiquated electoral laws are broken with impunity, secretive lobbying is bending our politics out of shape and Silicon Valley tech giants collude in selling out democracy.
Politicians lie gleefully, making wild claims that can be shared instantly with millions on social media. Peter Geoghegan is a diligent, brilliant guide through the shadowy world of dark money and digital disinformation stretching from Westminster to Washington, and far beyond. Praise for Democracy for Sale: 'Thorough, gripping and vitally important' Oliver Bullough'A brilliant description of the dark underbelly of modern democracy.
Everyone should read it' Anne Applebaum'A compelling and very readable story of the ongoing corruption of our government and therefore ourselves' Anthony Barnett'As urgent as it is illuminating' Fintan O'Toole'This urgent, vital book is essential reading for anyone who wants to make sense of our politics' Carole Cadwalladr'This forensic and highly readable book shows how so many of our democratic processes have moved into the murky, unregulated spaces of globalisation and digital innovation' Peter Pomerantsev'A call to arms for all those who value democracy' The Herald'Geoghegan's words are those of someone who is prepared to keep fighting to defend and revitalise what shadows of democracy still remain'Scotsman
Information
Format:Paperback / softback
Pages:416 pages
Publisher:Bloomsbury Publishing PLC
Publication Date:07/01/2021
Category:
ISBN:9781789546040
Other Formats
Paperback / softback from £13.75
Information
Format:Paperback / softback
Pages:416 pages
Publisher:Bloomsbury Publishing PLC
Publication Date:07/01/2021
Category:
ISBN:9781789546040