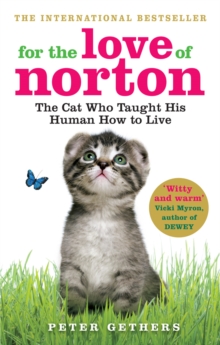 For the Love of Norton : The Cat who Taught his Human How to Live
Paperback
Description
There are only three things a cat needs for a fine life - good food, a comfortable bed, and universal praise and love.
Luckily - after converting his human, Peter, from cat hater to cat lover - Norton has plenty of all three. And they're about to get better, as his Peter and girlfriend Janice decide to up sticks and spend a year in rural France.
Norton in Provence is like - well - the cat who got the cream, whether he is hunting for mice in the rambling garden, hanging out with the local stray cats in the sun-drenched town square or being treated to delicacies in fine restaurants. And with Norton by his side, Peter finds that his Gallic neighbours welcome their new guests with open arms.
Over the course of the year, Peter learns how to sit back, relax and enjoy the pleasures of a simple life.
In A Cat Called Norton, the eponymous cat taught Peter how to love.
Now, in For the Love of Norton, he teaches Peter what it is to truly live.
Information
Format: Paperback
Pages: 256 pages
Publisher: Ebury Publishing
Publication Date: 01/03/2010
Category: Memoirs
ISBN: 9780091933319
Free Home Delivery
on all orders
Pick up orders
from local bookshops
Reviews
Showing 1 - 3 of 3 reviews.
Review by jessicariddoch
16/06/2015
I am sorry but this book is boaring.I did read the previous book in this series, I enjoyed that one but perhaps I was in a different place. this book is just more of the same. trying not to say too much about what was happening and trying to make his cat sound cute - I am certain that the last one was less contrived.It comes down to the problem that we know the cat from the first book and it does not "do" anything different. It has no beginning it has no end, it is just a rambling story of a man trying to find something cute about his cat.I was disappointed
Review by RefPenny
16/06/2015
This book was enjoyable but a 'light' read with very little happening. Norton didn't come across as a particularly amazing cat - this was more of a travel memoir with cat rather than the cat being central to the book.
Review by SpicyCat
16/06/2015
One of a pile of books lent to me by a friend. I picked it cause I need something light to throw in my handbag. I don't know why I bothered, I don't think I particularly enjoyed the first one and this one was worse- heavy handed repetition ("I have hinted at these matters"... no you have not hinted you have told us at least 10 times)- We know Norton is cute and travels well from the first book, this book doesn't add any more to Norton's abilities - lack of plot, at least in the last one there was some plot and development - this was a travelogue and review of restaurants the author had eaten at and wine he had drunk- Oh woe is me I could only afford to go and live in the south of France and eat food and travel and stay at great hotels if I do SOME work (I admit that this is partially jealously on my part), but after a while it got a bit repetitious as well.There were the odd moments of lovely writing (which gets the extra 1/2 star) and it was strangely compulsive, but just mostly heavy handed.
Also by Peter Gethers