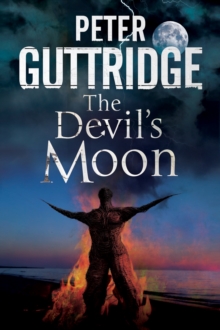 The Devil's Moon
Hardback
Description
Something strange is in the Brighton air. Everywhere newly-promoted Sarah Gilchrist looks, unsettling things are happening.
A Wicker Man is burned on the beach at dawn with a body inside; a painting titled The Devil's Altar is stolen from the Brighton Museum; a vicar who casts out demons goes missing; and a rare medieval manuscript of the occult Key of Solomon is stolen from the Jubilee Library.
Then Gilchrist's flatmate, Kate Simpson, discovers that acts of sacrilege and grave robbing have been routinely taking place in Brighton and the surrounding villages. And ex-Chief Constable Bob Watts is puzzling over inscriptions in his late father's books.
Specifically, books by occult writers Dennis Wheatley, Colin Pearson - and the feared Aleister Crowley, cremated in Brighton in 1947.
Old Religion and New Age collide and the body count mounts as the Devil's Moon slowly rises...
Information
Format: Hardback
Pages: 256 pages
Publisher: Severn House Publishers Ltd
Publication Date: 13/05/2013
Category: Crime & mystery
ISBN: 9780727882257
Free Home Delivery
on all orders
Pick up orders
from local bookshops
Reviews
Showing 1 - 1 of 1 reviews.
Review by smik
16/06/2015
The novel begins in arresting style: a twenty foot high Wicker Man burns at dawn in the water at the Brighton promenade; then a water spout pours thousands of live fish from the sky onto shoppers in the Brighton precinct; and later in the day a robbery takes place at the Brighton Museum and Gallery, but nothing appears to have been stolen.I spent most of this novel thinking this title was the 4th in a series. There is certainly a lot of barely explained back-story including separate stories of Bob Watt's fall from grace as Chief Commissioner of Police, journalist Kate Simpson's illegal use of a stun gun supplied by her flatmate policewoman, and now newly promoted Detective Inspector Sarah Gilchrist, against whom some charges have been dropped because the evidence has disappeared. Some of these threads get more explanation than others.And it appears THE DEVIL'S MOON is actually the fourth of a trilogy. Brighton Trilogy1. City of Dreadful Night (2010)2. The Last King of Brighton (2011)3. The Thing Itself (2012)thenThe Devil's Moon (2013)As I struggled to overcome these back-story conundrums, the plot of this novel emerged. The end of April is coming, and believers are preparing for Walpurgis Night. Hence the Wicker Man, and various manifestations of the occult, with the rain of fishes seen by some as a sign of impending doom.The Brighton police force become involved when a corpse is discovered inside the burnt Wicker Man. Simultaneously the disgraced ex-Chief Commissioner Bob Watt, who has remained friendly with Sarah Gilchrist since his fall from grace, becomes involved in learning more about the occult when he starts investigating some books he finds in his recently deceased father's library. The paths of the two investigations move in tandem, ending up in the same places without really crossing paths.So here are the makings of an enthralling read, but for me there was too much background information. It felt as if the author had at hand too much research about the Knights Templar, witchcraft, and the occult that he simply couldn't leave out. That, and my struggle with the back-stories, reduced my level of enjoyment dramatically.
Also in the Brighton Series series