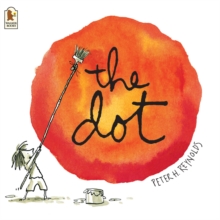 Description
One little dot marks the beginning of Vashti's journey of surprise and self-discovery in Peter H.
Reynolds' multiple award-winning modern classic.In this inspiring, award-winning story of self-expression and creativity from Peter H.
Reynolds, illustrator of Ish and the Judy Moody series, Vashti thinks she can't draw.
But her teacher is sure that she can. She knows that there's creative spirit in everyone, and encourages Vashti to sign the angry dot she makes in frustration on a piece of paper.
This act makes Vashti look at herself a little differently, and helps her discover that where there's a dot there's a way...
With wit, charm and free-spirited illustrations, Peter H.
Reynolds encourages even the stubbornly uncreative among us to make a mark - and follow where it takes us.
Information
Format: Paperback
Pages: 32 pages
Publisher: Walker Books Ltd
Publication Date: 04/10/2004
ISBN: 9781844281695
Free Home Delivery
on all orders
Pick up orders
from local bookshops
Reviews
Showing 1 - 5 of 24 reviews.
Previous | Next
Review by aconant05
16/06/2015
Vashti's teacher inspires her to become an artist by framing a dot that Vashti created.
Review by ambourg7
16/06/2015
This book shows lots of thought through the dot(s) and facial expression. Teaches students that anyone is an artist. The coloring and line movements show different emotions.
Review by BarrettOlivia
16/06/2015
Vashti is feeling down about herself when she believes that she cannot draw. Concerned, her teacher insists she makes a dot on a paper and frames it the next day. Feeling unimpressed by her dot, Vashti is motivated to create an entire collection of dots, all reiterated in various ways. She frantically makes the dots, all different shapes, sizes, colors, and styles. A distressed little boy approaches Vashti, insisting that he has no artistic ability, just as Vashti once felt. Vashti insists that he draw a line for her. Just as Vashti's teacher did for her, Vashti insists the little boy autograph it and she informs him that she will frame it. So, just as the teacher inspired Vashti, Vashti passed on the same inspirational message. She learns good doings and passes them on, creating an optimistic chain of events between characters. The colors in the illustration demonstrate a particular emotion with each page. In the story Vashti explains she is using water color, and the illustrator seemed to have also used water color.
Review by amoore1
16/06/2015
Vashti is a young girl who doesn't think she can draw. Her art teacher challenges her and she realizes that she does a great job making dots! In the end Vashti inspires a young boy who also doesn't think he can draw. I think this book's theme is how anyone can be successful in anything with good effort. This would be a really cool story to read to students before an art lesson. It would help decrease anxiety for students who do not like art. Also, the colors incorperated into each page reflects Vashti's mood. I would like to discuss with students the meanings behind each color.
Review by mfink1
16/06/2015
This books holds a great story that would teach children to try new things. In this book a little girl is encouraged to draw, something that she does not enjoy, and ends up falling in love with creating art. She even inpires a little boy, who was just like her, to do the same. Peter Reynolds created an inspirational story that shows even some of the smallest things, like a dot, for example, can become something much bigger.