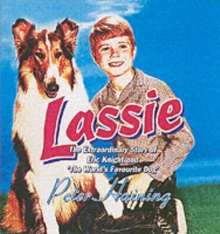 Lassie : The Extraordinary Story of Eric Knight and 'The World's Favourite Dog'
Hardback
Description
In 1938, Eric Knight wrote a magazine story about an impoverished Yorkshire family who are forced to sell their beloved collie dog to a Scottish breeder.
Against all the odds, the dog manages to find her way home.
Described by its author as a job of 'bread and butter workmanship', "Lassie Come Home" went on to inspire films, radio, and television shows, and a staggering array of merchandising which have established her as 'the world's favourite dog'.
Although Lassie is an American icon, her creator was actually born in the Yorkshire Dales, in 1897, where the young Eric Knight became fascinated by the collie dogs used by local sheep farmers.
After his family split, he moved to America with his mother in 1912, and began practising as a writer and artist.
After serving in the First World War, he married, settled on a farm, and purchased a collie of his own, 'Toots'.
Inspired by a return trip to Yorkshire, he drew on his first-hand knowledge of working class hardship and his own love for Toots to create "Lassie Come Home".
Although MGM's decision to film the story in 1943 made a star of Elizabeth Taylor, it marked Lassie's rise to superstardom. The collie with the trademark white feet, collar, chest, and blaze between the eyes featured in six more movies before transferring to television in 1954.
One dog after another was re-cast in the role of the canine saviour with human-like intelligence, although viewers were not to know that all dogs were males because, for moulting reasons, they look more photogenic on screen.
While the fame of Lassie grew with every passing year, Eric Knight did not share in its success.
In January 1943, while travelling to Egypt, his plane crashed, killing all on board.
As the aircraft was on an intelligence mission, there is speculation that it may have been sabotaged.
Knight was posthumously awarded the US Legion of Merit.
The shooting for the remake of "Lassie Come Home" begins in Ireland, in 2005. "Lassie" is one of entertainment's most successful franchises with 10 feature films and more than 675 half-hour television episodes. "Lassie", the TV series, celebrated its fiftieth anniversary in 2004.
This edition will contain a comprehensive selection of rare film stills, cartoon strips, and book and magazine illustrations. It is a perfect gift book for collectors, dog-lovers, or anyone interested in the Lassie phenomenon.
Information
Format: Hardback
Pages: 115 pages
Publisher: Peter Owen Publishers
Publication Date: 01/11/2005
Category: Television
ISBN: 9780720612677
Free Home Delivery
on all orders
Pick up orders
from local bookshops