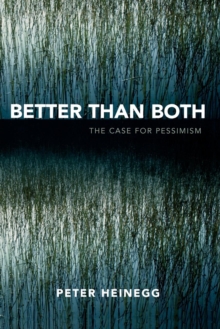 Better than Both : The Case for Pessimism
Paperback / softback
Description
Better Than Both: The Case for Pessimism is an experiment in "popular philosophy." It presents and discusses (literally) life-and-death issues in non-technical, everyday language.
This new work sees pessimism not as a kind of depressed moodiness or self-indulgent negativity, but as the inevitable result of any fair-minded survey of the world we actually live in.
It reaches this conclusion by looking into basic human psychology, the record of history, the experience of aging and death, the failure of religion, and many features of both ancient and modern culture.
Acknowledging the truth of pessimism, as opposed to optimistic self-deception, serves both to inoculate us against the suffering that is either bound or liable to come our way, and to help us enjoy the pleasures that life can afford.
Realistic pessimism-unlike "silly pessimism," also described here-never denies the deep, intense joys of life, without whose seductive appeal the human race would long ago have vanished from the planet.
It simply cautions, since probability is the best guide to decision-making, against basing any belief-system or choosing any course of action on delusively long odds.
The book refers to a broad spectrum of writers and thinkers, such as Nietzsche, Mark Twain, and King Solomon for insight.
Information
Format: Paperback / softback
Pages: 160 pages
Publisher: University Press of America
Publication Date: 17/01/2005
Category: Philosophy
ISBN: 9780761833123
Free Home Delivery
on all orders
Pick up orders
from local bookshops