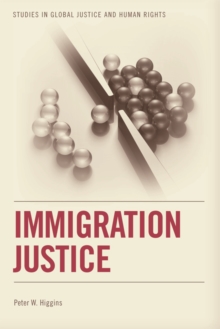 Immigration Justice
Hardback
Description
This is the first book-length examination of immigrant admissions from a feminist philosophical perspective.
Much philosophical work on immigration is founded on an outdated conception of immigrants and the causes of migration.
This is based on the model of the pre-World War II European migrant to North America escaping political tyranny, fleeing famine or hoping to claim 'unsettled' land.
Higgins draws on empirical evidence to show that the world has changed, and reasons for migration have changed too.
So we need to create new moral principles for deciding which immigrants should be admitted.
Rather than suggesting one absolute solution, Higgins argues that a unique set of immigration policies will be just for each country.
He concludes with concrete recommendations for policymaking.
It draws on empirical data on trends, patterns and causes of contemporary global migration.
It is the most thorough, up-to-date examination of existing philosophical work on justice in admissions.
It responds the thought of other political philosophers including John Rawls, Thomas Pogge and Michael Walzer.
It includes chapters on nationalism, cosmopolitanism and policy.
Free Home Delivery
on all orders
Pick up orders
from local bookshops