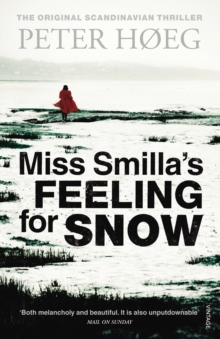 Miss Smilla's Feeling For Snow
Paperback
Description
One snowy day in Copenhagen, six-year-old Isaiah falls to his death from a city rooftop.The police pronounce it an accident.
But Isaiah's neighbour, Smilla, an expert in the ways of snow and ice, suspects murder.
She embarks on a dangerous quest to find the truth, following a path of clues as clear to her as footsteps in the snow. 21 years after its first UK publication, Vintage are reissuing this classic Scandinavian crime novel for a whole new audience.
Information
Format: Paperback
Pages: 416 pages
Publisher: Vintage Publishing
Publication Date: 01/04/1996
ISBN: 9781860461675
Free Home Delivery
on all orders
Pick up orders
from local bookshops
Reviews
Showing 1 - 5 of 9 reviews.
Previous | Next
Review by pamplemousse
16/06/2015
A simply brilliant book. The central character is one of the most vivid, gutsy and enjoyable of all the books I've read. I know many readers hated the ending, but for me it was perfect.
Review by terese
16/06/2015
this was the second time i read this. still really good!
Review by Noisy
16/06/2015
Extraordinary. Rich in detail. Haunting. I don't often read modern novels, and I only picked this up because I had vague memories of good reviews, and because it said it was a crime story. At first I found the language very clunky, and I put this down to the translation from the Danish. However, after a while the style settled down, or I became adapted to it and started to appreciate it, and after that it flowed beautifully. Having now read up about the translation (I followed a link from the Wikipedia article on the book), I now recognise that the style is deliberate. In fact, I read the British version of the translation, which is disavowed by the original translator and published under a pseudonym. A juicy morsel in itself. This British version has been revised by the author himself, who 'corrected' some mistranslations; removed some of the dumbing down for the American market; and restructured some sentences to highlight particular points. The forcefulness of the imagery is heightened by the sentence structure, and reinforces the strange atmosphere which portrays the other worldly attitude of Smilla, the heroine. Smilla grew up in Greenland, raised by her mother who was a native of the land, and consequently she was shaped by the snow and ice of her world, and by the characteristics of one of the key professions of her people - that of the hunter. Translated - as a teenager, and following the death of her mother - to Denmark and the care of her Danish father, Smilla seems to view the Danish people as aliens, but ones that she has extensively researched and learnt to manipulate. She lives a marginal existence, in circumstances that seem inconsistent, but is thrown into a mystery by the death of a boy who is yet another child of Greenland. The resolution of the mystery proved a bit hard to take, but the journey to get there was captivating. The depth of detail and evocation of sense of place and personage were spellbinding. I give thanks that some of the chapters were quite short, as they gave me a sufficient break to tear myself away to get some sleep and go to work. This is not an easy book to accept from the first, and I found the ending weak. My recommendation is to persevere if you find the start hard to fathom, but this is not what I'd call a light read. I got tremendous satisfaction out of it: it is very much a matter of taste, though - as the range of reactions indicate. When you've finished it, it will be well worth your while to read the ten pages of notes on the translation written by Kirsten Malmkjær.
Review by soylentgreen23
16/06/2015
I had misgivings about this book; that is, until I read it. I had previously encountered Hoeg through his short stories, collected in 'Tales of the Night'. But I hadn't enjoyed any of that work particularly much, and doubted that I would feel differently here.However, a good and close friend of mine recommended 'Miss Smilla', and so it was impossible for me to refuse to read the book; and a good thing too, as it is one of the most original and scintillating novels I have read in a great while.At its heart, 'Miss Smilla' is a detective story. Smilla, the eponymous hero, is not herself a detective; precisely what she does is not made perfectly clear. She is antisocial and her world is made up of fractured relationships, even down to her country: she is a Greenlander, but finds herself living an unwanted life in Denmark. What Smilla does know, if not about being a detective, then it is about everything to do with the snow and ice.The Coen brothers once said of their masterful 'The Man Who Wasn't There,' that once they had decided that the plot concerned blackmail and a barber, the rest effectively wrote itself; perhaps that's true here. There is a death involving a child that Smilla had grown close to, and clues in the snow. The rest follows naturally. Smilla is always true to herself; of all the books I have read written in first person singular, this is the most consistent in narrative voice of any I have read in recent times.The ending is obscure and difficult - I will say that much, to prepare readers as they approach it. One could argue that Hoeg, in setting up this mystery, did not very well know how to end it, and so does not; but within the universe this story creates for itself, it is not a bad ending, and I could not have thought of one better myself.
Review by Pummzie
16/06/2015
Think I'm a little late to the party with this book - apparently it was all the rage about a decade ago, (I've heard there's even a bad film of the book). I decided to read it after it was repeatedly recommended as a well-written thriller. I must confess that I have little time for thrillers so I was a little tentative, expecting to hate it. But it took less than a chapter for Hoeg's style and Smilla, the half Inuit/half Danish heroine of the piece, to reel me in. She was so clearly a woman written by a man - I can't imagine a woman writing some of these lines- but it didn't bother me at all. I was completely entranced by her and her intuitive skills and detached opinions. The intrigue as to why the boy had fallen from the roof to his death, which is the central conceit of the book - all of Smilla's increasingly mind-boggling entanglements spring from her desire to discover the truth behind the boy's fall - kept me with it for a little while. But, as the number of odd corporations, James Bondesque villians and a plethora of reluctant helpers starters to pile up - I started to get impatient and look for the end. By the end, even my affection for the heroine and her lovely musings wasn't enough to keep me engaged. I finished the last half off quickly mostly because I wanted it to be over. I really wanted it to have been worth it. Unfortunatly, the final revelations and compendium of coincidences were disappointing. BUT I won't forget Smilla. She was fantastic on a few hundred pages- I just wish that she hadn't gradually metamorphosed into the Inuit Lara Croft.