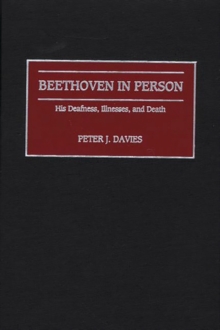 Beethoven in Person : His Deafness, Illnesses, and Death
Hardback
Description
This critical reevaluation of the causes of many of Beethoven's illnesses offers detailed accounts of the treatments applied by his physicians and a comprehensive rendering of the composer's final illness, death, and burial.
Separate chapters discuss the causes of many of Beethoven's illnesses, his autopsy and the exhumations.
Following the rediscovery of the original Latin autopsy report in 1970, the author has discovered two faulty translations, which he argues contributed to errors in earlier medical assumptions.
New evidence disputes earlier assertions that Beethoven's deafness resulted from syphilis.
This fascinating account of Beethoven's ailments should appeal to Beethoven enthusiasts and to both the medical and music communities.
Free Home Delivery
on all orders
Pick up orders
from local bookshops