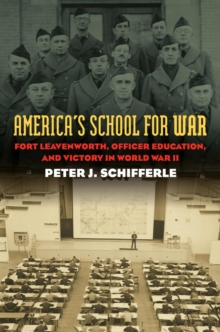 America's School for War : Fort Leavenworth, Officer Education, and Victory in World War II
Paperback / softback
Description
Army Historical Foundation Distinguished Writing AwardWhen the United States entered World War II, it took more than industrial might to transform its tiny army-smaller than even Portugal's-into an overseas fighting force of more than eight and a half million.
Peter Schifferle contends that the determination of American army officers to be prepared for the next big war was an essential component in America's ultimate triumph over its adversaries.
Crucial to that preparation were the army schools at Fort Leavenworth. Interwar Army officers, haunted by the bloodshed of World War I's Meuse-Argonne Offensive, fully expected to return to Europe to conclude the ""unfinished business"" of that conflict, and they prepared well.
Schifferle examines for the first time precisely how they accomplished this through a close and illuminating look at the students, faculty, curriculum, and essential methods of instruction at Fort Leavenworth.
He describes how the interwar officer corps there translated the experiences of World War I into effective doctrine, engaged in intellectual debate on professional issues, conducted experiments to determine the viability of new concepts, and used military professional education courses to substitute for the experience of commanding properly organized and resourced units. Schifferle highlights essential elements of war preparation that only the Fort Leavenworth education could provide, including intensive instruction in general staff procedures, hands-on experience with the principles and techniques of combined arms, and the handling of large division-sized formations in combat.
This readied army officers for an emerging new era of global warfare and enabled them to develop the leadership decision making they would need to be successful on the battlefield.
But Schifferle offers more than a recitation of curriculum development through the skillful interweaving of personal stories about both school experiences and combat operations, collectively recounting the human and professional development of the officer corps from 1918 to 1945. Well crafted and insightful, Schifferle's meticulously researched study shows how and why the Fort Leavenworth experience was instrumental in producing that impressive contingent of military officers who led the U.S.
Army to final victory in World War II. By the end of the book, the attentive reader will also fully comprehend why the military professionals at Fort Leavenworth have come to think of it as the ""Intellectual Center of the Army.
Information
Format: Paperback / softback
Pages: 308 pages
Publisher: University Press of Kansas
Publication Date: 30/06/2017
Category: Military history
ISBN: 9780700625277
Free Home Delivery
on all orders
Pick up orders
from local bookshops