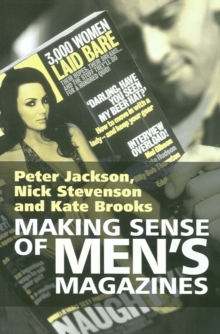 Making Sense of Men's Magazines
Paperback / softback
Description
The last decade has witnessed the phenomenal growth of the mena s magazine market, raising important questions of a more general kind.
What is the significance of the rise of mena s lifestyle magazines for gender politics?
Are we witnessing a backlash against feminism or are they merely harmless fun?
Why did lsquo;new mana give way to the lsquo;new lada ?
What political issues do these questions raise within the context of the information society?
Making Sense of Mena s Magazines is an original study which enables us to understand the appeal of mena s magazines, the ways in which they are constructed and understood, and many of the complex questions they raise for both men and women.
Through interviews with editors and key production staff, an analysis of the content of mena s magazines and focus group interviews, this work seeks to lsquo;make sensea of this cultural phenomenon.
The authors give particular attention to the gendered and commercial character of mena s magazines, and the implications they have for the way we understand capitalism, masculinity and consumption in the modern world. This book makes a major contribution to understanding the role of magazines in contemporary culture and will be essential reading for students of sociology, media and cultural studies and gender studies.
Information
Format: Paperback / softback
Pages: 224 pages
Publisher: Polity Press
Publication Date: 06/09/2001
Category: Popular culture
ISBN: 9780745621760