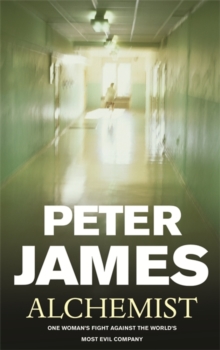 Description
As chilling as Stephen King as credible as Michael Crichton - a gripping novel of terror and suspenseMonty Bannerman's father is a leading genetic scientist, and Nobel Prize winner, whose company has just been taken over by what will soon be the world's biggest pharmaceutical giant.
He had some misgivings about their company ethics - but ultimately, he needs their money, and they need his mind. Then a journalist comes to Monty's door, with a far-fetched story about the pharmaceutical company.
She doesn't believe what she's being told for a moment - but within a few short weeks, events are making the apparently fantastic claims look horrifyingly like the truth.Behind the respectable facade of the multi-national company which calls itself the 'World's Most Caring Company' lies an outrage against the whole human race...
Information
Format: Paperback
Pages: 688 pages
Publisher: Orion Publishing Co
Publication Date: 04/11/1999
ISBN: 9780752817293
Free Home Delivery
on all orders
Pick up orders
from local bookshops
Reviews
Showing 1 - 3 of 3 reviews.
Review by SonicQuack
16/06/2015
Alchemist was written during the tail end of a surge in conspiracy thrillers. The mid-90s saw many authors writing stories involving sinister organisations and cabals, each with their own diabolical schemes and malevolent plans for domination. James has tweaked it, adding an unusual tilt which means this novel doesn't sit squarely in any one genre.It's a lengthy yarn though and at times it rinses and repeats it content rather than just getting on with it. The characters are interesting enough however James' insistence on keeping back information for big reveals near the end can be somewhat frustrating. These flaws are smoothed over by the sheer scale of the hopelessness the central characters must face and the claustrophobic nature of the plot.
Review by FionaRobynIngram
16/06/2015
Be afraid, be very afraid of big pharmaceutical organisations. When Montana Bannerman's Nobel prize-winning father sells his company (including his genetics research and laboratory) to a giant corporation, Bendix Schere, that labels itself as 'caring,' she and her father think their financial problems are over. All they need to do now is research for cures that will benefit mankind. Right? Wrong. Within a short space of time, a pushy reporter (Zandra Wollerton) working on a wild and seemingly far-fetched story is dead. Too many babies are being born with Cyclops Syndrome. Is this coincidence or genetic engineering? Then when more people connected to the company and the investigation start dying—sometimes in front of Monty—she takes fright. Who is behind the world's most caring company's hidden agenda? And when Monty narrowly escapes an attempt on her life, she wonders who can she trust? A co-worker? The police? Everyone she speaks to ends up dead!What a thriller. I read this book a while ago and enjoyed it even more on the second read. It is a thought-provoking novel with enough of a sprinkling of the occult to remain credible. The Satanic side is not overdone, and wasn't magic really science in disguise thousands of years ago? There is also enough science and genetics to keep the reader interested without overwhelming the layman with too much 'stuff.' Flashbacks are relevant and add to the story. The author has a way of keeping readers intrigued as new information filters through. I liked the characters very much and found them believable. The action jumps between scenarios to keep the readers on the edge of their seats. The plot is complex, but 'big reveals' are surprising and conspiracy theorists will be satisfied with this book. One wonders, after reading this book, if the author knows something we do not. Even though this book was published in 1999, its relevance for today is perhaps even more compelling. We have become so dependent on medication, and (most interestingly) a new trend coming to the fore is genetic analysis. People can have themselves tested to see what diseases they might develop in the future and take steps accordingly to prevent such diseases developing. Perhaps big pharmaceutical companies will see a gap here and fact becomes stranger than fiction…
Review by adpaton
16/06/2015
I love Peter James but this overly long mish-mash of the occult, gene therapy and the ruthlessness of the pharmaceutical industry would benefitted enormously by a ruthless editor and a severe cut. Flipping from past to present and obscuring the identity of the Satanic Pope [although he was easy to guess] was irritating, and isn't it always infuriating when the supposedlty intelligent lead characters place 100% faith in the one character who - as a mere babe can see from a mile away - is decidedly dodgy. Handsome US patrent lawyer with hidden identity joins mega rich/ mega powerful/ mega paranoid/ mega everything else suspicious pharmaceutical company and falls for the beautiful blonde daughter of an eccentric Nobel-prize winner whom the compnay had head-hunted despite his maverick reputation. It is soon apparent not all is kosher in the state of Big Biz and as the lawyer and the blonde start to dig into questions like why four women on the world's best-selling fertility drug have died in the last few months giving birth to cyclopean babies, so those who may have answers begin dying. A heart attck here, a suicide there, a construction site injury somewhere else, but it adds up to a hefty figure - too large to be mere coincidence. Meanwhile, the occult forces are also busy behind the scenes, stealing personal items vooddoo style to work curses against any opposition. It all ends in The Cave of Demons, deep in a Middle Eastern desert - somewhere near the Tomb of Satan I think - where the lawyer and Sir Prime Evil lock horns [not really] mano a mano. There's unlikely and there's unbelievable and this scene falls into the latter territory. Never mind, it's early James and still a jolly good read albeit one that was a little too rough for comfort in parts.