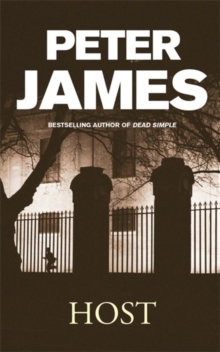 Description
Like Dr Frankenstein, brilliant scientist Joe Messenger will stop at nothing in his quest for immortality . . .Brilliant scientist Joe Messenger believes that people can be made to live for ever.
Knowing the human body can be frozen indefinitely, Joe devises a way of downloading the human brain into a supercomputer called ARCHIVE.
But Joe's wife, Karen, is worried by his preoccupation with ARCHIVE, which seems to be developing signs of a distinct and sinister personality of its own.Then, just as Joe is on the brink of a scientific breakthrough, a series of macabre accidents befall him and his family - and Joe finds himself facing the terrifying consequences of his own obsessions.
Information
Format: Paperback
Pages: 640 pages
Publisher: Orion Publishing Co
Publication Date: 07/12/2000
ISBN: 9780752837451
Free Home Delivery
on all orders
Pick up orders
from local bookshops
Reviews
Showing 1 - 1 of 1 reviews.
Review by AdonisGuilfoyle
16/06/2015
Author amnesia can have terrible consequences: you vow never to read anything else by a certain author, because his books are so bad, and then a random title catches your eye, so you think, 'I'll try that'. Only to recall, halfway through, why you so intensely dislike the author in the first place. That was me, with Peter James' <i>Host</i> - the hackneyed plot and paper-thin, Hollywood-esque characters were exactly like those in <i>Possession</i> by the same man, but I had invested too much money and time not to see the whole dreadful sequel through.Computer scientist Joe Messenger is a vain, arrogant, selfish womaniser, who thinks that death is the final insult, because brilliant minds like his will be lost at the very peak of their wisdom and understanding. Following in his late father's delusion, Joe wants to be cryonically frozen after death, so that medical advances in the future can restore his physical and mental gifts to benefit future generations. (I'm paraphrasing - James doesn't quite frame Joe's philosophy in these words, but that's the basic gist.) Only Joe is impatient - he doesn't want to wait around like a giant popsicle for decades, he wants to make a back-up of his genius now, in his artificially intelligent computer programme ARCHIVE! And then along comes 'brilliant' and 'lovely' graduate Juliet Spring, who looks a lot like Dolly Parton's 'Jolene', of the 'flaming hair and eyes of emerald green'. Juliet is fascinated with Joe's work - and Joe himself, <i>au naturellement</i> - and offers herself up as ARCHIVE's first test subject: will Joe download her brain into the computer when she dies, preserving a copy of her alleged genius along with her cryonically frozen body?The premise of artificial intelligence is intriguing and well researched by Peter James, I'll give him that, but the fictional flesh he pads his scientific bones with is beyond ridiculous. James always writes like a frustrated scriptwriter of Hollywood blockbusters, and <i>Host</i> is no different - Joe is handsome and talented, Juliet is gorgeous and intelligent (although there is little evidence of the latter), and the background of the story is randomly set in Los Angeles. You know, just in case. I wanted to reach into the book and slap everyone senseless - Joe for thinking with his pants and not his PhD, Juliet for stroking his ego, and Joe's wife Karen for setting the feminist movement back fifty years ('Sit down, Joe-Joe, and I'll get you a glass of whiskey'). But the real warning signs were the cheesy dialogue and b-movie cliches - 'I have less than six months to live', one character actually announces, and another sticks her hand down a waste disposal chute. In a house where the intelligent computer system is malfunctioning. D'oh.Aside from the caricatures and product placement (take off your Burberry raincoat, Joe, and pour a glass of Jameson's), the story itself makes little sense. Joe's behaviour is inconsistent throughout - catatonically dumb or helpfully intuitive as the plot requires - and the technology is similarly anachronistic (Joe can build a smart machine, but there are no mobile phones and newspaper archives are still stored on microfilm?) I kept reading in the hope that Joe would have some sense knocked into him - he does - but there were no surprises. Every twist and turn is telegraphed in advance, so that instead of being gripped by the action, I was left thinking, 'Yeah, I knew that was coming'. The egocentric advancement in cryonics was also laughable - I wouldn't have any faith in great scientists who store human heads in a chest freezer with the pizzas, sorry Joe.I don't know if Peter James is really a very clever writer messing with reader's minds and emotions, but I would only recommend his novels for comedy value. Wait for the DVD.