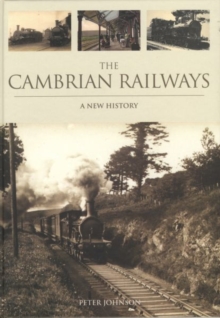 The Cambrian Railways: a New History
Hardback
Description
Despite its name and the fact that the bulk of its operations were in the Principality, Cambrian Railways (an amalgamation of a number of earlier lines) was based at Oswestry, in Shropshire, where its workshops were established.
Its network of routes, extending over 230 route miles, stretched from Aberystwyth and Pwllheli on the Welsh coast through much of Central Wales to Shropshire where connections existed with both the London & North Western and Great Western railways.
The Cambrian lost its independence in January 1922, being absorbed into the GWR 12 months before the main Grouping. Apart from the standard gauge network, the Cambrian also constructed two narrow-gauge lines, the Vale of Rheidol and the Welshpool & Llanfair. Over the years, there has been much written about the Cambrian, but now much additional information has come to light as documentation has been deposited with the National Archives and in local Record Offices, material that has not been covered by other historians of the railway. This book presents a whole new history of the Cambrian Railways, concentrating largely on the company's standard gauge lines and is illustrated with a fantastic array of over 275 photographs, both colour and mono which bring the text to life.