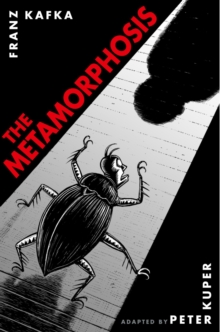 The Metamorphosis
Paperback
Information
Format: Paperback
Pages: 80 pages, chiefly illustrations
Publisher: Random House USA Inc
Publication Date: 20/07/2004
Category: Comic book & cartoon art
ISBN: 9781400052998
Free Home Delivery
on all orders
Pick up orders
from local bookshops
Reviews
Showing 1 - 5 of 7 reviews.
Previous | Next
Review by SparklieSunShine
16/06/2015
My first and only Kafka. I do have the version with other stories so perhaps they will pop up over the course of the year. Well written and I actually liked the story quite a bit even if it was strange, gross and sad.
Review by sweetiegherkin
16/06/2015
This book is an interesting twist on a classic short story. It is presented here as a graphic novel. The textual adaptation is well done and quite faithful to the original. The dark, moody drawings add to the gloomy atmosphere of the narrative. However, in some of the scenes, the sister is depicted as seeming a lot angrier and aggressive than I recall her being in the original story (although I did read that some five years ago now, so perhaps I am remembering incorrectly). Also, the beginning pictorial representations of Gregor as an insect seem more comic than I would have hoped for given the pathos of this story. However, as the story goes on and Gregor's condition worsens, the resulting drawings of the insect Gregor do look more lamentable so that makes up for the cartoonish beetle we see in the beginning.
Review by theboylatham
16/06/2015
Seven out of ten. eBook.
A man awakes one morning to find that overnight he has transformed into a bug. Far from being suprised, himself and his family take it very much in their stride - not able to face him only because he represents what is clearly to be their demise (he is the only family member who provides income). He becomes progressively more bug-like as the story continues and the family lose the desire to care for him.
Review by JoS.Wun
16/06/2015
A bit weird but interesting nonetheless. Kind of illustrates how relatively easy people find it to get used to extraordinary situations in next to no time, but the situation described is just too outlandish to be really convincing. It felt like I was reading an experiment in writing, which perhaps it was.
Review by Madaroo
16/06/2015
This book holds a special place in my heart because when I told my Dad I had become interested in bizarre/satirical literature, he went out by myself to a used book store and picked me up an old copy of the book. I came home to a copy of this book placed neatly on my pillow with a yellow post-it note from Dad that said, "Picked this up at a used bookstore. Enjoy, question, analyze; then we'll talk"