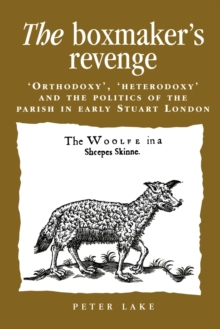 The Boxmaker'S Revenge : 'Orthodoxy', 'Heterodoxy' and the Politics of the Parish in Early Stuart London
Paperback / softback
Description
This book is based on a story. Its main protagonists are a London clergyman, Stephen Denison, and a lay sectmaster and prophet, John Etherington.
The dispute between the two men blew up in the mid-1620s, but its reverberations can be traced back to the 1590s and continued to 1640. Through Denison the book analyses the tensions and contradictions within the 'religion of protestants' that dominated great swathes of the early Stuart church.
Through Etherington, it eavesdrops on a London puritan underground that has remained largely hidden from view and which, while it was related to, indeed, parasitic upon, was not coterminous with, the order and orthodoxy-centred puritanism of Stephen Denison. By placing the Denison/Etherington dispute in its multiple contexts, the book becomes a study of puritan theology and intra-puritan theological dispute; of lay clerical relations and of the politics of the parish; and thus of the social history of parish and puritan religion in London. -- .
Information
Format:Paperback / softback
Pages:432 pages, Illustrations, black & white
Publisher:Manchester University Press
Publication Date:15/03/2001
Category:
ISBN:9780719080500