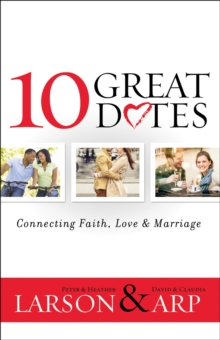 10 Great Dates : Connecting Faith, Love & Marriage
Paperback / softback
Description
Finally, a Way to Connect Spiritually That You'll BOTH Enjoy!While juggling the kids, work, church, and community commitments, are you and your spouse finding time to connect?
When was the last time you had a good talk about faith or did a devotional together?
To help you jump-start deeper connections, four marriage experts have come up with 10 creative date ideas, each centered on a spiritual theme, including* Appreciating your differences* Experiencing God together* Facing the storms of life* Connecting through prayerWith the planning taken care of--including flexible suggestions for before, during, and after the date--you and your spouse can simply enjoy the time sharing what's important in life. Download a free leader's guide for small groups at 10greatdates.org. "Finally, here is a book that helps couples connect spiritually, and all in the fun format of Great Dates.
I highly recommend this book for couples, small groups, and churches who want to strengthen and build godly marriages."--Gary Chapman, PhD, author of The 5 Love Languages"This book goes beyond spending time together.
It offers guidance on deepening an emotional and spiritual bond.
Each exercise provides insight and opportunities to authentically know and be known in new ways, bringing honor to one another and glory to God."--Gayle DiMartino, marriage ministry director, Willow Creek Community Church"This book is both practical and fun.
It gives couples tangible ways to grow together spiritually all in the fun, guilt-free format of great dates.
The Larsons and Arps have done the work. All you need to do is carve out time for your 10 Great Dates!"--Gary Smalley, author of The DNA of Relationships"Don't settle for an individual faith walk when connecting spiritually as a couple could transform your marriage.
This book provides an effective road map for couples who want to journey together."--Drs.
Les and Leslie Parrott, #1 New York Times authors of The Good Fight"This wonderfully written book takes what often is an elusive and mysterious discipline for couples and provides 10 life-building opportunities to move past the mundane of life and get to what really matters.
Experience it!"--Ron L. Deal, author of The Smart Stepfamily and coauthor of The Remarriage Checkup"Few things possess the potential to add to the overall satisfaction and meaning of marriage like really connecting spiritually.
The Larsons and the Arps do an amazing job of gracefully and playfully helping us walk together toward fulfilling our deepest longings and desires."--Robert Paul, co-president, National Institute of Marriage"With its focus on spiritual intimacy, this book is a refreshing change from the standard marriage materials on emotional and physical connection.
The Larsons and Arps have provided us with an amazing resource."--Shawn Stoever, PhD, senior director, WinShape Foundation"This book will refresh your marriage.
You can't beat the life-changing content, 10 meaningful dates, and the wisdom of some of America's finest marriage experts."--Jim and Cathy Burns, authors of Closer: 52 Devotions to Draw Couples Together; speakers at Creating an Intimate Marriage seminars
Information
Format: Paperback / softback
Pages: 216 pages
Publisher: Baker Publishing Group
Publication Date: 15/09/2013
ISBN: 9780764211348