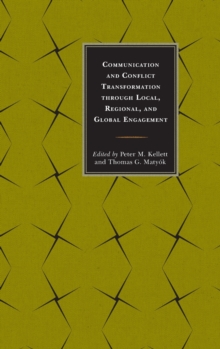 Communication and Conflict Transformation Through Local, Regional, and Global Engagement
Hardback
Description
Central to a transformational approach to conflict is the idea that conflicts must be viewed as embedded within broader relational patterns, and social and discursive structures-and must be addressed as such.
This implies the need for systemic change at generative levels, in order to create genuine transformation at the level of particular conflicts.
Central, also, to this book is the idea that the origins of transformation can be momentary, or situational, small-scale or micro-level, as well as bigger and more systemic or macro-level.
Micro-level changes involve shifts and meaningful changes in communication and related patterns that are created in communication between people.
Such transformative changes can radiate out into more systemic levels, and systemic transformative changes can radiate inwards to more micro- levels.
This book engages this transformative framework. Within this framework, this book pulls together current work that epitomizes, and highlights, the contribution of communication scholarship, and communication centered approaches to conflict transformation, in local/community, regional, environmental and global conflicts in various parts of the world.
The resulting volume presents an engaging mix of scholarly chapters, think pieces, and experiences from the field of practice.
The book embraces a wide variety of theoretical and methodological approaches, as well as transformative techniques and processes, including: narrative, dialogic, critical, cultural, linguistic, conversation analytic, discourse analytic, and rhetorical.
This book makes a valuable contribution to the ongoing dialogue across and between disciplines and people on how to transform conflicts creatively, sustainably, and ethically.
Free Home Delivery
on all orders
Pick up orders
from local bookshops
Also in the Peace and Conflict Studies series | View all