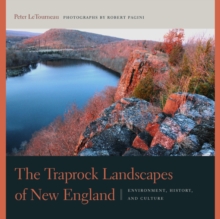 The Traprock Landscapes of New England : Environment, History, and Culture
Paperback / softback
Description
Stunning photography and fact-filled text reveal new perspectives on southern New England's most unique natural region.
A picturesque journey through the traprock highlands from New Haven, Connecticut to Amherst, Massachusetts, this book captures the majesty of wild windswept cliffs, panoramic summit vistas, and intimate details of the natural world through the eyes of an artist and the mind of a scientist.
By tracing the influence of natural history on cultural development in the Connecticut Valley, the authors present a compelling argument that the rocky highlands are landscapes of national significance, where the particular combination of geology, geography, water resources, climate, and human settlement fostered vital developments in Early American science, education, agriculture, manufacturing, technology, and the creative arts.
Through vibrant color photographs of high alpine crags and lush forests, thundering waterfalls and splashing cascades, and close-up views of the rocks, flowers, and birds, The Traprock Landscapes of New England presents the incomparable beauty of the region as never before.
Overflowing with information, long-time fans, first-time visitors, nature lovers, rock climbers, history buffs, land use managers, and many others will find plenty to satisfy in the detailed text and captions, crisp photos, historical images, informative maps, and more.
Showcasing popular locales, and revealing "secret spots," this must-have resource will encourage old friends and newcomers alike to visit the rugged crags once called "the boldest and most beautiful" landscapes in New England.
Information
Format:Paperback / softback
Pages:208 pages, 190 colour photos, 4 figs.
Publisher:University Press of New England
Publication Date:09/02/2017
Category:
ISBN:9780819576828
Also in the The Driftless Connecticut Series & Garnet Books series | View all