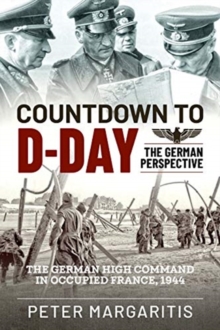 Countdown to D-Day : The German Perspective
Hardback
Description
In December 1943, among rising realisation that the Allies are planning to invade, Field Marshal Rommel was assigned the title of General Inspector for the Atlantic Wall.
His mission was to assess their readiness - what he finds disgusts him.
The famed Atlantic Wall, the first defence against invasion, is nothing more than a paper tiger, woefully unprepared for the forces being massed across the English Channel.
His task to turn back the Allied assault already seems hopeless. Alongside Rommel are a set of elite commanders, each driven by their own ambitions, ideas and armies.
At the frontline sits Erich Marcks, the wounded General tasked with the mighty burden of building up the coastal defences, all with inadequate supplies and a shortage of men.
He is flanked by Hans von Salmuth, a relative novice but a favourite of the Fuhrer, who has been assigned the lofty duty of defending Calais; the place Command believes will be the focal point of the Allied Invasion.
At the rear, General Major Bayerlien is preparing the elite panzer divisions for what may lie ahead, while General Major Pemsel is struggling to coordinate efforts to prepare the Seventh Army, believing that should an invasion come, he will be the hub of the German response. All of these local commanders are subject to the whims of Hitler, hundreds of miles away but continually issuing orders increasingly divorced from the reality of the war.
Countdown to D-Day takes a journal approach, tracing the daily activities and machinations of the OKH as they try to prepare for the Allied invasion.
Information
Format: Hardback
Pages: 576 pages, Over 150 photos, plus maps and diagrams
Publisher: Casemate Publishers
Publication Date: 09/05/2019
Category: European history
ISBN: 9781612007694
Free Home Delivery
on all orders
Pick up orders
from local bookshops
Also by Peter Margaritis