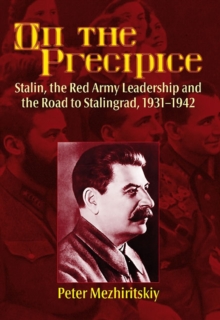 On the Precipice : Stalin, the Red Army Leadership and the Road to Stalingrad, 1931-1942
Hardback
Description
Exhaustive knowledge of Soviet life, politics and censorship, including the phraseology in which Communist statesmen were allowed to narrate their biographical events, gave Peter Mezhiritskiy sharp tools for the analysis of Zhukov's memoirs.
The reader will learn about the abundance of awkward events that strangely and fortuitously occurred in good time for Stalin's rise to power, about the hidden connection between the purges, the Munich appeasement and the German occupation of Czechoslovakia, and about the real reason why it took so long to liquidate Paulus' Sixth Army at Stalingrad.
Mezhiritskiy presents a clear picture of the purges which promoted incompetent and poorly educated commanders to higher levels of command, leaving the Soviet Union poorly prepared for a war against the Wehrmacht military machine, and offers alternative explanations for many prewar and wartime events. The second part of the book is dedicated to the course of the Great Patriotic War, much of which is still little known to the vast majority of Western readers.
While not fully justifying Zhukov's actions, Mezhiritskiy also reveals the main reason for the bloody strategy chosen by Zhukov and the General Staff in the defensive period of the War.
In general, he shares and argues Marshal Vasilevsky's conviction that if there had been no purges, the war would not have occurred. On the Precipice became widely known to the Russian-reading public on both sides of the Atlantic, and in the last ten years its quotations have been used as an essential argument in almost all the debates about the World War II.
Information
Format: Hardback
Pages: 384 pages, 40 photos
Publisher: Helion & Company
Publication Date: 15/01/2012
Category: European history
ISBN: 9781907677724
Also by Peter Mezhiritsky