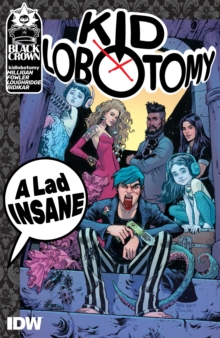 Kid Lobotomy, Vol. 1 A Lad Insane
Paperback / softback
Description
Come as you are, leave as someone else. In the winding hallways of TheSuites, anything can happen-whether you like it or not!
Join Kid, theproprietor of this fine hotel, as he tries to hold on to his father'sbusiness-and his own sanity. Kid, as he's affectionatelyreferred to, is the youngest child of Big Daddy, an aging hotelier with morethan his fair share of dark secrets tucked into the corners of the crown jewelof his empire: The Suites, where the guests are in danger of losing much morethan their luggage.
See, Kid has shed a few (okay, more than a few) brain cellsin his day, which naturally makes him qualified to perform a lobotomy or two. And why let those brain bits go to waste when he can use them to help-orunwittingly harm-his patients?
Ultimately, Kid hopes to restoresome of his sanity. But can he navigate his sister's devious plotting,vivid hallucinations, and his own crumbling mental state to uncover the truthabout his cursed lineage and face what runs rampant throughout the torturoushotel hallways?
Simply put, you've never read anything like this. Youwon't be able to look away. Collects issues #1-6 of the ongoingseries.
Information
Format: Paperback / softback
Pages: 152 pages
Publisher: Idea & Design Works
Publication Date: 05/06/2018
Category: Crime & mystery
ISBN: 9781684052448